Everything to know about digital menu boards for ice cream shops. In this post, I want to talk about menu boards. That's right, menu boards. But not just any type of menu board, digital menu boards. One of the most important marketing assets in your ice cream business is your menu. How you present your flavors to prospective customers can be a great way of attracting customers to your store. Your menu board should be easy to read, accessible, and readable both from the inside and outside of your ice cream shop. Since starting my ice cream shop, I have gone through every type of menu board: pre-printed, chalkboard, felt boards, stenciled, drawn, and finally a digital menu board. Now we have a digital menu board I would never go back.
That's why in this post, I want to teach out everything you need to know about menu boards, how you create a digital menu board, and what the cost involved is.
But first – what exactly is a digital menu board and how is it different from other menu boards?
What is a Digital Menu Board?
A digital menu board is made of up a combination of hardware (a monitor, streaming box) and software (digital menu board designer, and streaming software) that lets you create and display a digital menu to customers. Digital menu boards differ from other types of traditional menus such as chalk, paper, and pre-printed and drawn-by-hand menu boards and are easier to update and change daily.
The cost of a digital menu board will be higher than other types, but it will provide a return on investment by attracting more customers to your store.
Why You Should Have a Digital Menu Board?
Below are some statistics you need to know about the advantages of digital menu boards and why you should consider them for your business.
Why I Chose a Digital Menu Board
Since opening in 2016, the menu board at my ice cream store has been something we just haven't been able to get right. It was the one thing lettering us down. I wanted something that looked "trendy", was easy to change daily, and told the customer everything they wanted to know about us.
Since launching we have literally gone through seven different types of menu boards before we arrived at a digital menu board.
Menu Board 1 – pre-printed menu
To launch with we got a bespoke 65-inch custom frame made and then digitally designed a printed menu board to go into the frame. The cost for printing a 65-inch piece of paper was $120 each time.
Plus, on top of that, it had way too much information on it. Within one week of opening, we decided we needed to change what was on the menu. That was another $120 for a very large piece of paper.
This menu board was just not going to hack it for an ice cream shop with changing weekly flavors.
Menu Board 2 – chalkboard
For menu board 2 we decided to fill our custom frame with a piece of MDF which was then painted in purple chalkboard-based paint.
Our thinking was that we could write on the board with chalk and create the "trendy" look we were looking for. Having a chalkboard would also mean we could easily update the menu board weekly. Right?
Wrong!
Unless you have the skills of an artist (which we do not) creating a menu board that looks acceptable with chalk is, shall we say, near impossible. The chalk smudges as you write, then your writing will never be in a straight line, the chalk breaks off, and when you try to clean it despite having covered your MDF in chalkboard paint it will not come off. Or it simply will turn your chalkboard a different color.
Menu Board 3 – paint pens
For menu board 3 we decided to move away from chalk and replace it with paint pens or markers (water-based ones so they can be changed easily). This helped with making the menu board clear. However, unless you have someone with perfect handwriting the board will look not great.
Also, despite buying water-based pens the markers end up staining the board, making the only way to update the board to paint it again.
Menu Board 4 – stencils
We tried to solve the handwriting issue by using stencils. It didn't work. The stencils would not form a straight line and it took forever to update the menu board.  We also had the same issue with the markers staining the board each time.
Menu Board 5 – hybrid menu board
This time we decided to separate the menu board into two. On the one side we went and printed a Styrofoam board with all the information that we knew was not changing and stuck this to the board. We then just used the markers to write what we wanted on the other side of the board.
It was more acceptable, but we still had to repaint the menu board when we wanted to change it. The handwriting still looked awful.
Menu Board 6 – Styrofoam pre-printed menu board
For menu board 6 we had to change the Styrofoam board because, you know, things changed. More printing costs and the menu board still looked awful. Plus, we were starting to run out of paint because we were painting it so much to just update it.
Menu Board 7 – felt letter board
We decided to do a complete revamp. This time we used a set of 3 felt letter boards that we stuck to the menu boards.
The felt board came with addable and removable letters which meant if we wanted to update the menu board, we just had to replace the letters. The felt boards cost in total $40.
This was great, no more paint, no more bad handwriting. Problems solved. Right?
Wrong!
Team members would forget to change the letters on the board when they needed to be changed. We often ran out of the letters we needed. The felt board didn't give us enough space that we wanted, and, oh yeah, letters would constantly be falling off the board. Not to mention that when we did change the letters it would take forever. Pulling them off and then putting them back on.
Menu Board 8 – digital menu board
We finally upgraded to a digital menu board. Immediately we saw an impact.
Not only were all our issues solved, but we could now easily change the menu board daily, we had a menu board that looked great and now helped attract new customers into the store.
Best of all it could be changed as often as we wanted quickly and easily.
How Do I Make a Digital Food Menu?
In this section, I want to explain how to install and make a digital food menu for your ice cream shop. Whilst this is focused on ice cream shops the same applies to restaurants, retail stores, etc.
There is a lot of stuff on the internet about digital menu boards. From Raspberry Pi to the huge range of software providers. All of it can get a little confusing. So, below is exactly what you need to know to create a digital menu board.
What is a digital menu board?
A digital menu board is essentially a screen and then a separate app or piece of hardware which lets your turn your blank screen into a menu board. In its most basic form, all you are doing is displaying a photo on a TV screen. In fact, you can even use a USB stick to turn any TV with a USB connector into a digital screen display.
Can I use any TV to make my digital menu board?
No. You want to avoid using a TV as you would use in your home. Why? Well, because the TV you use in your home is only designed for being on and displaying images for 7 to 8 hours per day (at the most). If it is used constantly for long periods of time (like you would in your ice cream store) the screen would burn out, damage (screen burn), or just break.
Instead, you need to buy a commercial TV screen.
What are Commercial TV Screens?
Commercial TV screens are screens that have been tested and manufactured to work for a long and continuous period of use. They also do not have receivers. These screens are more expensive but are essential for your digital menu board.
If you use a normal TV, you will be replacing it very quickly. A commercial screen will be the most expensive cost of your digital menu board setup.
How Big Of A Screen Do I Need?
This depends on your location. Personally, I like big screens. In my ice cream store, I use a 65-inch commercial Samsung screen. Yes, it is big, but it lets us capture all the information we need and catches everyone's attention.
How Do I Make a Digital Menu Food Menu?
To create a digital menu board, you will have some hardware and some software. Let's start with the hardware.
Hardware
For hardware you are going to need:
A commercial Monitor Screen
A TV/Screen Bracket (to hang the screen off the wall)
A streaming box to remotely update the digital menu board to the screen
HDMI cables
Software
For software you are going to need three things: (1) a digital menu board streaming app (I use XOGO); (2) access to a graphic design program (such as Canva); and (3) some photo editing software (such as GIMP). Both Canva and GIMP are free pieces of software.
How To Design the Menu Board?
In this section, I will tell you how to design your digital menu board. It is exactly the way I create mine every day (as we have daily rotating flavors).
Step 1 – create your menu board on Canva
The first step to creating your digital menu board is to create your design on Canva. Set up, an account and design a menu board. Canva is a digital online design tool. It lets you create posters, flyers, graphics, and menu boards all for free (though there is a paid-for version that gives you access to more tools and graphics). To keep costs down I personally find the free version of Canva more than enough.
It also has a whole host of templates and backgrounds which you can create amazing digital displays with and lets you even animate them.
Step 2 – Download your digital menu board design
Once you have designed your digital menu board you want to download it as a PNG or JPG file from Canva. I personally go for PNG files because they are of higher quality. This means they keep quality when resizing.
Step 3 – Re-size your digital menu board PNG in GIMP
GIMP is an open-source (aka free) image software program. It will let you easily resize any images you create in Canva to fit your monitor screen at the ice cream store.
Top tip: always make sure to use GIMP to scale down images and not up – GIMP manipulates pixels so if you scale up it may affect quality.
I use a template of 1280 x 720 pixels in GIMP and then scale my digital menu board to fit this template. I found this fit my screen at the ice cream store perfectly.
Step 4 – Upload your resized digital menu board to the XOGO Manager App
The final step is to upload your digital menu board design to the XOGO Manager App. This piece of software communicates with the XOGO streaming box attached to your TV screen at the store. It uploads the design to display on the TV.
Step 5 – Turn on your TV and resize the menu board
The final step is to turn on your TV to the relevant source (usually an HDMI input) to display your digital menu board on the screen.
When you upload it for the first time you may have to use the TV's remote to resize the image to perfectly fit the screen. You will only need to do this the first time you upload the design. Afterward, the TV should remember the settings for the image.
How Do I Display the Restaurant Menu on my TV?
There are two main ways you can display the restaurant menu on your TV. The first is by uploading the digital menu board to a USB stick and putting it into the TV to display. I don't recommend this route. Why? Because the only way to change the menu is by physically updating the USB and putting it on the TV. It can not be done remotely.
The second way is to use a streaming system like XOGO, which I mentioned above.
There are a whole bunch of software providers which will let you remotely upload designs to the cloud and then upload them to your TV screen from anywhere in the world.
Why I Use XOGO?
From the outset, I should let you know I am not affiliated with XOGO in any way. It is genuinely, my provider of choice. And I will explain why here.
There is a whole host, and I mean a whole host, of providers offering software to display digital menu boards. Prices for these services can vary from $15 to $100 + per month to just use the Software. Plus, there is often a fee for a hardware device to connect your TV to the software.
The Most Cost-Effective Solution
If you are a small business, then like me, you don't want monthly charges and you want something that will be simple and easy to use.
Having searched endlessly I found the best option for a small business with one Screen was XOGO.
This software provider charges $0 per month if you only have one screen and use less than 15 images (the best part is you can easily delete and add images, so you don't go over the 15) or 1-minute videos (you won't need videos for a restaurant menu board).
The only cost involved is either a Google Chrome or Amazon Fire Stick so that your TV screen can download the XOGO app or their streaming XOGO mini-player which you can find on Amazon here.
I personally opted for the XOGO mini player.
There are more complicated ways of doing this like connecting your TV to a Raspberry Pi, or there are a bunch of other players out there who will offer similar packages. But none offer the same free package for single-use players under 15 images as XOGO. As I mentioned above, I didn't want to pay a monthly subscription fee and this lets me change the menu board daily through the XOGO Manager App on my phone or laptop.
Digital Menu Boards – Price
How much is a digital menu board going to cost you in total? Below is the cost of my 65-inch digital menu board setup. Remember there is no monthly fee if you use the XOGO one-screen option.
---
| Item | Cost |
| --- | --- |
| TV Screen (Samsung 65-inch commercial screen) | $899 |
| Bracket for TV Screen | $28.27 |
| XOGO Mini Player | $99 |
| Total | $1,026.27 |
---
For your reference here are the links on Amazon for each piece of equipment (prices may have changed since we purchased our setup):
Installation of Digital Menu Boards
For installation, our building manager helped with that, so we did not have to cover the cost.
The installation took about 1 hour. We would recommend having someone install the TV and bracket as these need to be installed correctly as the screen can be heavy.
As a rough estimate, you are probably looking at $250 for the installation. This would bring the total cost to around $1,275.
Note we bought a 65-inch TV screen which is big. There are smaller screens available on Amazon such as this Samsung 55-inch commercial screen and this Samsung commercial screen.
Return-on-Investment for a Digital Menu Board
What is the return-on-invest for a digital menu board? Are they worth it?
At the start of this post, I mentioned the average return of investment on a digital menu board is 9 to 18 months. That means on a menu board set up that costs around $1300 you will need to see an additional $72 of profit per month for the next 18 months because of the new digital menu board ($1300 / 18 months = $72.20).
Remember you will want to see $72.20 extra in profit per month, not sales. So if you operate on a net margin of around 10% you will need to see an extra $722 per month in sales from the new menu board. That is the equivalent of an extra $24 in sales per day.
What Have I Experienced?
Is an extra $24 per day possible?
Yes. Since installing our digital restaurant menu board, we have seen an increase of around 25% in sales. Plus, it is something which we found has attracted new customers from off the street (our menu board is viewable from the street).
Electricity Costs
What about electricity costs? Well, yes – the Digital Menu Board will increase your electricity bill, but you can keep this down by buying an eco-screen and making sure it is turned off when not in use.
---
Ice Cream Menu Board Design
In this last section, I want to go over some points for the design of your digital menu board.
The two most important things to remember when designing your ice cream menu are to make sure your menu is:
bright, fun, and colorful (to catch customers' eyes), and
as clear as possible.
Do not over clutter your menu board. Stick to displaying key messages, flavors, and pricing.
Ice Cream Menu Board List
The most important things to make sure are listed on your menu board are –
your ice cream concept
menu items
sizes and
prices
We have our flavors on the menu board too. But many ice cream shops have the flavors labeled on the scooping ice cream counter instead. I feel this is a wasted opportunity for people walking past the store. Put your flavors on the menu board so everyone can see them straight away.
Ice Cream Menu Board Ideas
If you have come to the end of this post and aren't sure if a digital menu board is for you for whatever reason, here are some alternative ideas for your ice cream shop menu board:
1) A chalkboard menu. We had a chalkboard for years. The main thing I didn't like about it was the fact it could look quite messy (and in my opinion a bit unprofessional).
2) Felt boards. You can use several of these felt letters boards on Amazon as your menu board.
3) Get your menu printed at a print shop e.g. Fed Ex. This was what we initially used as our menu when we launched our ice cream shop. The biggest problem with this is that it is very expensive to change. Decide you want to increase one menu item by 50 cents? You need a whole new menu printed. Want to remove a menu item? New menu printed. You get the gist.
4) A roll of paper. If it fits into your brand some ice cream concepts use a piece of rolled brown paper. This can be set up to look stylish and they are just pulled down to add new flavors and the old parts ripped off. Lots of artisanal coffee shops or ice cream shops use this method.
---
Everything To Know About Digital Menu Boards for Ice Cream Shops – The Final Lick
Should you get a digital menu board for your restaurant. Yes. 100%, yes. Absolutely yes. I was hesitant about getting a digital menu board for so many years. It is confusing, it is too expensive, I don't want to pay monthly fees, etc. The reality is, I wish we got it installed when we launched five years ago. The magic of the digital menu board is that it lets you quickly and easily test and change. If a menu is not working – you can change it there and then. By testing and updating you can find the best way of attracting more and more customers.
Remember signage is everything especially if you are a retail store. You need to do everything you can to attract customers' attention and a digital menu restaurant board is one of the best ways to do it and at a reasonable cost, you will return.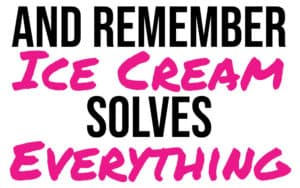 ---
Time To Learn Some More
Want to learn more on your path to ice cream entrepreneur success. Then check out some of my other articles.
What Are the Challenges In An Ice Cream Business
Ice Cream Shop Profits – How To Run A Profitable Ice Cream Shop
How Much Does It Cost To Start An Ice Cream Truck
How Much Does It Cost To Start An Ice Cream Shop
Ice Cream Shop Accounting – Everything You Need To Know
Can I Make Ice Cream At Home And Sell It
What Are the Different Types of Frozen Desserts?
Is Vegan Ice Cream Profitable
What Equipment Do I Need For My Ice Cream Truck
How To Pick A Generator For Your Ice Cream Truck
How Profitable Is An Ice Cream Truck?
Everything You Need To Know About Working In An Ice Cream Shop
Everything You Need to Know About Writing an Ice Cream Business Plan
Everything You Need To Know About Rolled Ice Cream
Everything You Need To Know About Soft Serve Ice Cream
Vegan "Ice Cream"
Everything You Need To Know About Batch Freezers
What Equipment Do You Need For An Ice Cream Shop
What Supplies Do You Need For An Ice Cream Shop
What Is The Best Location For An Ice Cream Shop
How To Open An Ice Cream Shop
How To Start An Ice Cream Truck
Do Ice Cream Shops Make Money in the Winter
How To Make An Ice Cream Shop Stand Out
How Do You Become An Ice Cream Distributor
Everything You Need To Know About Ice Cream Delivery Apps
Everything You Need To Know About Gluten-Free Ice Cream and Toppings
What is the Mark-Up on Ice Cream?
What Scoopers Do Ice Cream Shops Use?
What Are the Best Toppings and Sauces for Ice Cream?