Everything you need to know about writing an ice cream business plan. So, you want to start your own ice cream business – but how do you do that and make it a success? Enter the business plan. Every business starts with a business plan. A business plan is a roadmap that guides you through every aspect of your business. From what you will be selling? What your business model is? What will your marketing strategy be? How about management and operations strategy, financing, and growth? A business plan is every aspect of your proposed business set out and explained. It is what makes your business viable.
Despite the importance of a business plan research has found that just 20 percent of business owners even have a formal plan in place. In fact, only one in three business owners will even spend time focusing on their business's growth. That's right once you start your ice cream shop you need to grow its sales.
Ice Cream Shop Business Plan
In this post, I want to share everything you need to know about writing a business plan for opening a brick-and-mortar ice cream shop. I have written several business plans from scratch for my ice cream businesses. Some were needed for landlords. Some were needed for potential investors, and some were needed for visas. But most importantly, they helped me focus on how I would make my ice cream business a success.
Whilst I will focus on an ice cream shop business plan in this post, a lot of the principles will also apply just as well to an ice cream truck or even a wholesale ice cream business (selling ice cream to grocery stores).
So, let's crack on – what do you need to know to write an ice cream business plan.
What Do You Need To Know To Write an Ice Cream Business Plan?
As a general rule, an ice cream business plan should be structured based on the below. The sections of a business plan should include:
executive summary
mission statement
projected organizational growth
company structure
industry outlook
key external drivers
success factors
marketing analysis summary
sales forecast for 5 years
works cited.
Why Write an Ice Cream Business Plan?
First, let's look at the reasons you may want to write an ice cream business plan. There are three main reasons for writing a business plan for an ice cream shop:
Simply for yourself.
Lay out the plan and financial projections in writing so the path is as clear as possible in your head. After all, as the saying goes "if you fail to prepare then prepare to fail". This business plan can then act as a benchmark for you to follow for your business. From it, you can then assess what is working and what is not.
To secure financing to start or expand the ice cream business.
This is usually either to a bank for a bank loan or potentially to investors for investment.
For a potential landlord.
If you are currently looking for a lease, it may be an idea to put together a business plan to show any potential landlords. Landlords need to be confident that a potential tenant is going to make the rent every month before they will lease space to them. A comprehensive business plan could help secure a good commercial lease for an ice cream shop.
How to Write a Business Plan for an Ice Cream Business
I have owned ice cream businesses for the past decade, as well as having done an MBA. Drawing on my ice cream and business experience, here is the best way to lay out an ice cream shop business plan
Executive Summary
An Executive Summary is essentially a short summary of your business plan. It should tell someone in one page or less everything they need to know about your ice cream business without having to read the rest of the business plan. The Executive Summary will be the first part people will read – it is more for other people than for you. If it doesn't capture them then potential landlords, lenders, or investors may not even bother to read the rest of it.
You want the executive summary to deliver a real punch as to why the ice cream business you are going to open will be wildly successful.
Your Executive Summary needs to include details about you, the ice cream concept, the business location, and the products and services that will be offered.
Try to keep the executive summary to less than one page.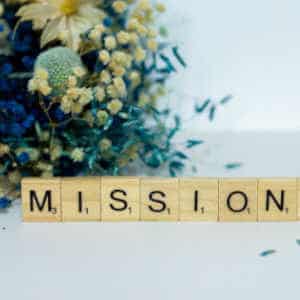 Mission Statement
As a general rule, the Mission Statement is the purpose and value of your ice cream business. You want to try to make this as clear and concise as possible. The Mission Statement is your "elevator pitch" –  you know you end up in an elevator with a very important investor and you have 30 seconds to sell your ice cream concept before they have to get out of the elevator.
For example, is your proposed ice cream shop
focused on children and located close to schools with a mission to bring smiles to as many kids' faces as possible through delicious colorful ice cream? 
the first keto ice cream concept developed in your area aimed at the 20–40-year-old demographic with your mission being to deliver keto options to the masses?
focused on making plant-based vegan ice cream made from minimum ingredients but never compromising on flavor and taste. Your mission is simply to "make someone's day better" from the way you make your ice cream, to your customer experience to how they feel hours later?
focused on launching a healthier ice cream product with the aim of showing customers that ice cream can taste great as well as make you feel great.
focused on creating artisanal and authentic Italian gelato made from high-end Italian ingredients and traditional Italian gelato recipes. Your mission is to show people what real Italian Gelato tastes like.
SPOILER ALERT, one of the above is one of my ice cream concepts.
You get the idea.
Projected Organizational Growth
The projected organizational growth breaks down the projected growth of the business. This is essentially your plan on how your business will grow its sales over a 5-year period. How will sales grow at your first ice cream shop? How are you going to increase sales? Do you plan on opening more ice cream stores or will you focus on turning the one location into the "it-spot"? These are all the types of things you will cover in the Projected Organization Growth section.
In this section, you should include the following:
Overview of the five-year plan
Growth year 1
Growth year 2
Growth year 3
Growth year 4
Growth year 5
Under each section, include a summary of any expansion plans, reinvestment plans, and if more team members are going to be taken on. Also, focus on how you plan on growing the business each year. Also, talk about what role you as the owner will take each year (it may be that in the first year or two you plan in being very hands-on with the intention of hiring a manager at year three for example).
You should also include any marketing strategies you have for years, as well as how many forms of expansion are going to be funded.
Company Structure
In the company structure section, you should provide an overview of yourself the owner (plus any business partners you have).
This is the section where you really get to talk about yourself. In this section, you will want to detail all your achievements, qualifications, and experience. Also, make sure to really highlight any business experience you have had to date.
Finally, include a bit about why you are so passionate about starting this ice cream business and how you will ensure it will be a success.
Staff structure
This section also includes a table detailing how many staff you plan on having in years 1-5. It should be broken down into managerial roles, part-time and full-time. It would also be a good idea to include estimated pay here (research if there are any minimum wage increases planned where you live) and what you expect payroll to be year-to-year.
Industry Outlook
As a general rule, the industry outlook section looks at the specific business sector you are entering. In the case of an ice cream shop, you will want to look at what the ice cream shop industry is like generally as well as in your local geographic market.
Include the size and predicted growth of the ice cream industry. Make sure to use very credible references for these figures and reference them in the works cited section at the end of the business plan. Include the size and predicated growth of your ice cream niche (if applicable and if you can find the figures).
For example, if your "ice cream" is dairy-free then include figures of the size and growth of the dairy-free frozen dessert market.
Geographic Data
This is also a good section to include any data on the market you want to launch your ice cream in. Include here any demographic data relevant to your ice cream niche. Specific data on other ice cream shops in the area including any idea of sales, staffing, locations, rent, etc. are all essential pieces of information here.
Your geographic market will be the one that your ice cream store is specifically targeting. It is the furthest you think a customer will regularly travel to come to your store. The keyword here is regularly. For example, if you open an ice cream store in Beverly Hills your geographic market will most likely be confined to Beverly Hills and not the whole of Los Angeles.
Market Trends
Finally include a section on the current market trend within the ice cream industry and how your proposed ice cream shop is capitalizing on it. You can easily get market reports on industry trends from reports such as Mintel or IBISWorld. If you cannot access these your local library should be able to help.
Key External Drivers
In key external drivers, examine any external factors that will help ensure your ice cream business's success. If your ice cream concept is there any changing or increasing trends on which you want to focus your ice cream business.
For example, will you make healthier ice cream to take advantage of the continuing movement toward health-conscious eating? Or will you design your ice cream and your location completely around being as TikTok friendly as possible? Both examples of growth factors that are driving customers' actions separate from ice cream.
Also, what is the current consumer sentiment index? Are consumers' discretionary spend forecasted to grow? Even if it isn't, is worth referencing those smaller spend luxuries, like ice cream, tend to fare quite well even during harder economic times.
The aim of this section is to show that your business can take advantage of market trends and isn't going to be an outdated or out-of-trend concept.
Success Factors
In the success factors section, list out all the reasons why "your" ice cream business is going to be a success. Some example success factors include the following:
first-mover advantage (if launching a new ice cream concept).
having a clear market position.
production of a premium product.
providing first-class customer service and experience.
potential to the franchise.
effective cost controls.
stores in high-profile locations.
Marketing Analysis Summary
Market segmentation is all about who is your ice cream product aimed at (gender, interest, age range, location) and why you think that group of people will buy it. For example, it may be health-conscious females aged 20-40 (if your ice cream concept is a healthier one). It may alternatively be young children who want a colorful treat after school. You get the idea.
Target Segment Strategy
If you have already secured a lease for your ice cream business then see if you can get some data on the population, average age, and average income of the demographics in the areas.
Marketing Strategies
In this section, you will need to break down all the different ways you intend on gaining customers. Some examples are the following:
Securing high-profile locations with high footfall.
PR and editorials.
Community partnering.
Social media strategy.
Advertising.
Competition
If you have already secured your lease, it is worth evaluating the competition in this section. What other ice creams and frozen yogurt stores are near your location?
Competitive advantage
This section look at how your ice cream offering offers a competitive advantage over the competitors in the area. What makes you different? What is your "Unique Selling Point"? Why will people come to you to buy ice cream?
Sales Forecast for 5 Years
A 5-year sales forecast is one of the most important parts of your business plan. This will be especially the case if you are presenting your business plan to potential, investors, landlords, or banks. Unfortunately, it is also the part that a lot of small business owners turn their heads away from. But, it doesn't have to be that way.
A sales forecast can be one of the best ways of giving you a benchmark on how your business is doing financially. It also sets out specifically what you think your growing costs, expenses, and sales should be over a given period.
Sale Forecast Essential Figures
As a general rule, $1k a day in sales for a small ice cream shop is a good initial first-year sales to aim for. In terms of expenses, the following are the approximate percentages for each ice cream shop expense (before financing – if you plan on taking out a bank loan then include the repayments too).
---
Discounts 2%
COGS 30%
Rent 8%-12%
Staff 25%
Utilities 3%
Merchant processing fees 3%
Insurance 1%
Miscellaneous 3%
Net Profit 10-20%
---
A good net profit percentage to aim for is 10%-20%.
2-5 Year Predicted Sales
Once you have put together your first year predicted sales, you will have to then put together your 2-5 year predicted sales. For these years you will have to account for the following:
Annual sales growth for the store (a 5-10% annual growth is a pretty good figure to aim for).
Any expansion plans (e.g., any plans to open further stores).
Inflation for some of your expenses.
Any rent increases (commercial rent tends to go up by a small amount every year according to the terms of the lease).
Any wage increases for team members and any new hires.
Before you write this section, I suggest reading my dedicated post on Ice Cream Shop Profits where I go into detail on understanding an ice cream shop P&L. You can read it here: Ice Cream Shop Profits – How To Run A Profitable Ice Cream Shop.
Or is your business plan for an ice cream truck? No problem – I wrote a dedicated post for Ice Cream Truck finances here: How Profitable Is An Ice Cream Truck?
Works Cited
In the works cited section just make you properly cite any resources used in your business plan. Make sure to properly credit and source all pieces of information you used. Someone should be able to easily find any reference materials from this section.
The more credible the resource the better.
---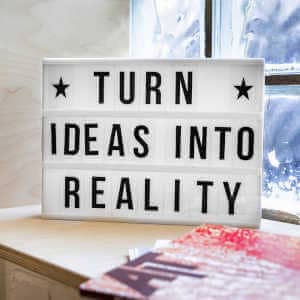 Everything You Need to Know About Writing an Ice Cream Business Plan – The Final Lick
Everything you need to know about writing an ice cream business plan. What have we learned in this post? Well, despite the fact that most business owners do not write a business plan, let alone update them regularly – writing a business plan is essential.
In my experience, you really need to write two sets of business plans. The first will be designed for people outside of the business – potential investors, lenders, landlords, etc. The second is just for you. Why have two separate plans? Well, whilst yes, there will be a lot of overlapping information in both – a business plan aimed just at you is meant to be a strategic document you look at weekly. It is meant to guide your business decisions. It is meant to show you what is working in your business and what isn't.
For example, by comparing your forecasted accounts against your current accounts you immediately have a benchmark to see how your business is doing. Likewise, stuck on marketing, or are your planned marketing strategies even working? Having a business plan which details what you plan to do and what you are doing lets you immediately know what to double down on and what to stop marketing-wise.
Write a business plan you will use
I have written a lot of business plans. I have spent days writing some which are then only thrown into a drawer or saved on a computer to never see the light of day again. This is not the purpose of a business plan. It is meant to be your business's playbook. A guide for your day-to-day decisions. It should be something you look at weekly. It should be something that helps you grow your ice cream business.
Whatever you write – even if it doesn't have all of the above in it, make sure it is something that YOU can use in YOUR business.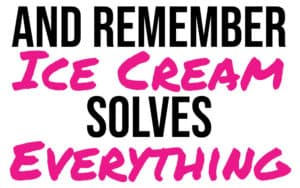 ---
Time To Learn Some More
Want to learn more on your path to ice cream entrepreneur success. Then check out some of my other articles.