How profitable is an ice cream truck? In this post, I want to talk about how profitable running an ice cream truck can be. In it, I break down the profits and sales you can expect to make from street vending, public events, and private catering events. I will also run through the main costs you can expect running an ice cream truck and alternative forms of income, such as online delivery platforms like UberEATS. The post will primarily focus on the sales of an artisan ice cream truck that sells handmade scooped ice cream. So, how profitable can an ice cream truck be?
How profitable is an ice cream truck?
An ice cream truck can make net profit margins of 10%-20% (usually a five figure annual sum) if it focuses on building up at least one regular street vending spot as well as catering at private events and serving at public events. The most profitable sales for an ice cream truck will come from private catering events – corporate events, private parties and weddings.
Average Ice Cream Truck Sales
Ice cream sales are seasonal. To this extent, you can expect street vending sales to vary between the winter and summer months. To give you an idea of what sales you can expect from a day of street vending during different times of the year or from public and private events I have put together the table below – based on my three year experience of owning an ice cream truck:
---
| Mid-Week Winter | Weekend Winter | Mid-Week Summer | Weekend Summer | Private Catering | Public Events |
| --- | --- | --- | --- | --- | --- |
| <$200 | $200-$300 | $300-$500 | Up to $700 | $300-$3.5k | $200-$2.5k |
---
Type of Ice Cream Truck
In this post, I want to focus on the profitability and sales of an artisan scooping ice cream truck. I also want to focus on trucks that are not operated by the owner (i.e. they have a team member driving and serving).
I owned a truck just like this for three years. It was an artisan scooping truck selling a quality ice cream we made ourselves. We operated in an expensive city. Scoops started at $4.95 for a single scoop. We had two team members who drove and served on the truck (only one at a time unless it was a big event). I always wanted it to be more of a passive investment rather than a job I bought for myself.
Vending Options For Ice Cream Trucks
There are three main ways you can make money from an ice cream truck:
Street Vending
Private Catering, and
Public Events
Let's go through each in turn and see what kind of sales you can expect.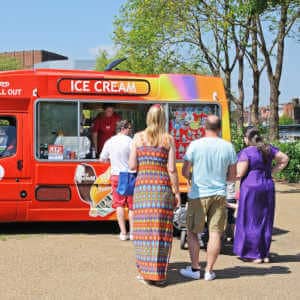 A.     Ice Cream Truck Profits from Street Vending
Street vending is where your truck parks up on a public street and sells directly to members of the public. Most of your sales in this situation will come from people walking past your truck or who have come out specifically to find you.
If you launch an ice cream truck it is important to try to build up at least one regular street vending spot. This is especially important because private and public events can be inconsistent. Having a strong street vending spot will mean you always have a fallback spot when you have no events booked. Also, your staff will obviously still want shifts during the weeks you don't have events booked. 
How to get a good street vending spot
For any type of street vending spot, you will want to make sure that it fulfills the following criteria:
not too far from your commissary so you don't have to spend too much on gas driving there.
make sure it is somewhere you can easily secure a parking spot for regularly in the same spot.
make sure parking costs are free or not too expensive.
make sure it is a space that surrounding bricks and mortar businesses don't mind you parking in (non-food is usually best).
it is a spot with good foot traffic.
obviously, it should be a spot you get decent and consistent sales.
How long does it take to build up a street vending spot?
As a general rule, it can take anywhere from 1 to 3 months to build up a street vending spot. The key to success is being consistent with a new spot. Build a regular schedule and stick with the spot for 1 to 3 months. If after that period it still does not work, then move on and try another spot.
In the case of our ice cream truck, we built a dedicated spot about a 20-minute drive from our Commissary – it was parked on a busy street retail street. There was always a stretch of parking spaces outside we could park in, and local businesses liked having us there (they were retail and not food so that helped). Parking was also reasonable (and free on Sundays) – we never once received a parking ticket there. We built it up into such a great spot that other food trucks started to turn up there as well.
What sales can you expect from street vending?
The below table summarizes the sales that you can expect from street vending. These are based on my truck's street vending spot.
---
| Mid-Week Winter Street Vending | Weekend Winter Street Vending | Mid-Week Summer Street Vending | Weekend Summer Street Vending |
| --- | --- | --- | --- |
| <$200 | $200-$300 | $300-$500 | Up to $700 |
---
These were the kind of sales we saw at this spot, depending on the time of year as well as the time of the week. We tended to do six-hour serving shifts – either 12 pm-6 pm at the weekends or 2 pm-8 pm during the week. The staff shift was 8 hours to account for an hour before and after to set up, clean up, and drive to and from the location – keeping the shift at 8 hours limited overtime costs.
So really the street vending spot was only profitable in the summer months and sometimes during the weekends in the winter.
It is challenging for an ice cream truck to do more than $1k in sales from street vending in a day. Our truck never cracked four figures in sales in a day of street vending – in comparison our brick and mortar ice cream shop $1000+ days are the norm.  
B.     Ice Cream Truck Profits at Public Events
A public event is essentially a big, organized event (e.g., a music or food festival) that has tents and trucks selling food. There will normally be several organizers for an event like this.
Organizers will usually charge you a fee for attending (usually in the realm of $100-$200). Sometimes if it is a fundraising type of event the organizers will charge a set percentage of sales from the event (e.g., 10% or 15% of ice cream sales from the day).
How much can you expect to sell at a public event?
An ice cream truck can sell $1k-$1.5k at a successful public event.
Unfortunately, I do also have recollections of doing public events where we didn't even sell $200 due to poor turnout for the event. This was on top of having to pay an event fee to attend (usually nonrefundable).
A badly organized public event can turn out to be a real loss-maker for an ice cream truck. That's why you want to be particularly careful when picking events – especially ones with unproven track records or attendance.
The most we ever did in sales at a public event was $2.6k in one day. This was at a very large annual weekend festival in our niche. We did $4.3k overall in sales that whole weekend. However, the fees to attend were very large (a four-figure sum) and our staff costs for the weekend were high (including a lot of overtime). This meant the net profit for that event came out at around $1k (a net profit of 23%).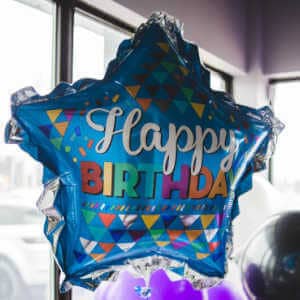 C.     Ice Cream Truck Profits from Private Events
Private events can be the most profitable aspect of an ice cream truck. Private events are when someone reaches out about catering to a certain number of people at a certain time.
Pricing for these events is based on an agreed-upon price between you and the customer. Payment will also be in advance (or sometimes immediately after the event).
Big names we have served with our truck include Youtube, Google, Amazon, various movie studio sets, Nickelodeon, Disney, and more.
How to set pricing for private events?
As a general rule, you want to have in place a set price for serving different numbers of people. You will also want to have a minimum price in place regardless of the number of people involved. Bear in mind the higher your minimum the less likely you will be booked. For example, $500 for up to 50 people, $900 for up to 100 people, and so on.
Having a set price will let you get back to people quicker and set an anchor point from which price can be negotiated.
Corporate Events
The most profitable private event we ever did was a staff event at a very successful tech company. They paid us $3.5k for two hours of serving. We only ended up serving ice cream to a couple of hundred guests. Our expenses totaled two staff members doing a four-hour shift each, plus the cost of a few hundred scoops of ice cream. And we got paid $3.5k. Do the math as to how profitable it was. The best part was – that the company loved our truck, so we got hired by them several times – it always worked out as super-profitable to serve at.
Corporate events tend to be the most profitable private events an ice cream truck can serve (rather than say birthday parties). These are the kind of events where a company (any kind of corporate – tech, movie studio, etc.) puts on a treat/reward for its team. They tend to involve a lot of servings in a short period of time and decent budgets. Even better, they almost always take place mid-week, so you aren't sacrificing weekend street vending sales to do them.
Birthday parties
Catering events for birthday parties tend to be less profitable. This is because birthday parties are usually only for small gatherings (less than 50 people). This means there are only so many people willing to pay for them.
Birthday party requests are almost always for Saturdays and Sundays (usually in the summer too). The issue is that these are also the days that are most profitable for street vending. You don't really want to accept a $400 small birthday party event on a Saturday in August when you could stand to do up to $700 in your regular street-ending spot.
It is occasionally doable to do a small birthday party and street vending on the same day – so long as the party is either early or late in the day. Otherwise getting the street vending parking spot can become challenging.
An ice cream truck can charge far less for a small event mid-week in the winter (as low as $300) and a lot more for a Saturday in the Summer (we were always resistant to charge less than $600 for a Summer Saturday). Staff costs for private events tend to be very low.  So private events can work out very profitable. Staff tended to be tipped well as well.
Can An Ice Cream Truck Sell Via Online Delivery?
I also own an ice cream store. One of the most popular aspects of that business is online orders through platforms like Doordash, UberEATs, and Postmates. 
Having these in place at the ice cream store meant we naturally questioned whether we could set up online sales on our truck. Obviously, the issue with this is that you need a set location for this to work. We did have our one street vending location which we sold at least 1-2 times a week. So, we decide to set up Postmates.
How did it go?
Some days we wouldn't get any orders. But some days one or two orders would trickle in. So, we did have some sales in Postmates but not enough to justify setting up other online platforms. We also had to remember to update our hours on Postmates every week depending on what our schedule was. We also had a few delivery drivers who were a little confused collecting ice cream from a truck.
What Annual Sales Can An Ice Cream Truck Do?
Full caveat – we only had one full year in service before COVID-19 started.  But in our first full year our ice cream truck did around $100k in sales.
On average, $100k in sales is a good starting aim for sales for an artisan scooping ice cream truck.
Bear in mind that our truck was not operating anywhere close to 7 days a week. It probably was operating on average four days a week.
What Expenses Does an Ice Cream Truck Have?
Here are the approximate expenses we experienced in our first year of owning an artisan scooping ice cream truck.
---
| Example Ice Cream Truck Expenses | Annual Cost ($) |
| --- | --- |
| Cost Of Goods Sold | 25k |
| Wages | 25k |
| Commissary rent | 12k |
| Event fees | 6k |
| Insurance (auto, general, employee liability) | 5k |
| Gas | 5k |
| Fees and licenses (DMV, health department renewal, and city permits for events) | 2k |
| Repairs | 3k |
| Miscellaneous (e.g. data to take online payments & other misc. costs) | 2k |
---
The above is a snapshot of our truck's first full year in business. During this first year before COVID, it did make a profit of around $15k. During this time, I was not doing any of the serving.
Running an ice cream truck then can be a profitable endeavor but running just one truck is not going to make you a millionaire (especially if you hire other people to run it for you). However, it can bring in a 5-figure annual profit and be a decent investment.
Furthermore, almost all this profit came from the summer months. Unless we had a big corporate event booked, we tended to make a small loss in the winter months and would make all our profit in the summer months.
This means you will have to be prepared to manage cash flow throughout the year to take account of such seasonality.
How Much Does It Cost to Invest in An Ice Cream Truck?
As a general rule, it will cost around $25,000-$60,000 to start an artisan scooping ice cream truck. You can read more about the costs involved in starting an ice cream truck here: How Much Does It Cost To Start An Ice Cream Truck.
Is An Ice Cream Truck a Good Investment?
As a general rule, it is possible to make back the initial investment in an ice cream truck in three years.
We spent $42k on our truck.
In our first full year in sales before COVID, we made around $15k in net profit. So, on this basis, it would take around 3 years to make the investment back. Also, you have an asset that can always be sold (we sold our truck for $36k in the end – due to events drying up over COVID combined with our store sales increasing limiting our production capacity for the truck).
---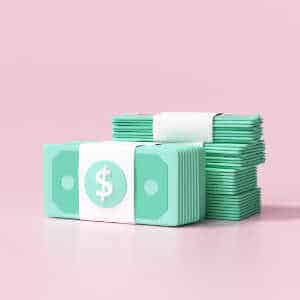 How Profitable is an Ice Cream Truck – The Final Lick
How profitable is an ice cream truck? An ice cream truck can be profitable offering owners a net profit of around 10% to 20% of total sales. The key to creating a profitable ice cream truck is to develop your own dedicated street vending spots together with a strong base of events. Events will be the most profitable type of service an ice cream truck can do. Combine these two and you can have a profitable ice cream truck. To increase your profits, scale your ice cream truck business by having more than one truck cover specific locations. Most important thing is to be patient and strategic with how you build dedicated vending spots. Successful street vending spots will rely on people being able to regularly and easily find your truck.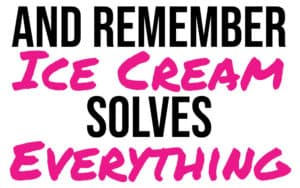 ---
Time To Learn Some More
Want to learn more on your path to ice cream entrepreneur success. Then check out some of my other articles.