How much does it cost to start an ice cream truck? Are you thinking about starting an ice cream truck business? Well, in this post I want to share exactly how much it will cost to start an ice cream truck. Ice cream trucks can be a great business model. They give you the flexibility to move to different locations, sell at public events, and offer private catering. If done correctly, operating an ice cream truck can be a profitable ice cream business model. Plus, it offers greater flexibility. Unlike owning an ice cream shop you don't have to go out on cold or rainy days. And, if you build a reputation, you can become the go-to truck for private events. If you are looking for a super popular example of an ice cream truck, just look at a brand like Mister Softee where trucks are the cornerstone of their business.
I have launched and ran an ice cream truck for three years. Now, they do come with their own challenges which you can learn more about in my article – Challenges of Running an Ice Cream Business. Before you even get to those you need to know how much it will cost to start an ice cream truck. Let's find out.
How Much Does It Cost To Start An Ice Cream Truck?
As a general rule, it will depend on the type of ice cream truck you want to start. It can cost anywhere between $10,000 to $100,000 to start an ice cream truck. I have specified the different costs and types of ice cream truck in the table below.
---
| Type of Ice Cream Truck | $ Cost To Start |
| --- | --- |
| Pre-packaged Ice Cream Truck | $10,000 – $20,000 |
| Scooping Ice Cream Truck | $25,000 – $60,000 |
| Soft Serve Ice Cream Truck | $40,000 – $100,000 |
---
Finding A Truck – Four Main Routes
There are four main ways/routes to starting an ice cream truck. These are:
1. MOST EXPENSIVE: Buy a brand-new truck and get it built out from scratch.
2. Buy a secondhand non-food truck (think an old UPS van) and get it built out from scratch.
3. MOST COST EFFECTIVE: Buy a secondhand ice cream truck that already has the main Health Department requirements and then get any remaining changes done.
4. EASIEST ROUTE: Buy a second hand ice cream truck that is already permitted in the City and County you want to operate in and just apply for a change of ownership.
Let's go through each of these options. As depending on which one you choose, it will affect your startup cost.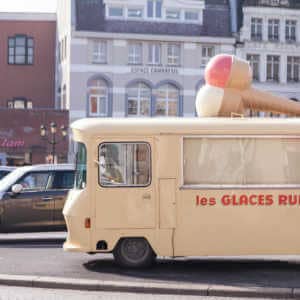 1. Buy A Brand-New Truck and Get It Built Out from Scratch (MOST EXPENSIVE)
This route is the most expensive. Why? Because you must buy a new truck and then completely retrofit it for your ice cream business.
The main advantage, however, is that you will end up with exactly the truck you want, built out to the exact layout and specifications needed for your business. Also, for mechanical reliability, this is the best option. You will have a brand-new truck and engine which should result in the fewest mechanical issues (if the truck is maintained).
2. Buy A Secondhand Non-Food Truck Such as An Old USPS/FedEx Van and Get It Built Out from Scratch
There are plenty of used delivery and step-vans on the market. They also come in a whole host of sizes and varieties. This route will prove to be slightly cheaper since you are buying a used truck.
The downside is that you will still only have a shell that has to be completely converted to an ice cream kitchen on the inside. Also, you are buying a used truck which may have more mechanical issues than buying a new truck. For example, my first ice cream truck needed $5,000 in engine repairs and after about a year developed a crack in the head gasket. This crack eventually led to the engine cracking 2 years later and needing to be completely replaced (at a cost of $7,000).
However, you will still get the benefit of being able to build out the service side of the truck exactly as you want.
3. Buy A Secondhand Ice Cream Truck That Has Some of The Health Department Requirements You Need And Then Get The Remaining Changes Done (OFTEN MOST COST EFFECTIVE)
I consider this route to be the most cost-effective. That is because you a buying a truck that is pretty much ready to go with most of your local Health Department rules. It may just require a few changes.
If you choose this route, you must be prepared to understand your local Health Department's rules inside and out. This is because the less the truck you buy complies with the health rules the more expenses you will incur to get it compliant. And yes – Health Department rules change significantly from County to County and State to State.
This was the route that I chose to take for my truck. I would message sellers on eBay and Craigslist with super-specific questions about measurements etc. Despite all of this, even though the truck I bought operated in the same County as us, it was an older truck. This meant the rules had changed since it was permitted. So, the four sinks were already compliant, but we had to get the flooring completely changed and had to get a wall built between the driver's area and the serving area. These were just to name a few of the alterations (the wall was not a requirement when the truck was permitted many years ago, but it was when we bought it).
4. Buy A Secondhand Ice Cream Truck Which Is Already Permitted in The City You Want to Operate In And Just Apply For A Change Of Ownership (EASIEST ROUTE)
This route is the easiest and quickest to starting an ice cream truck. In this scenario, you are buying a recent truck that is already operating and compliant with the health department (ideally another ice cream truck). You then just buy the truck and apply for the permits to be moved over to you.
The main thing to check for is that there are no new health department requirements that were not around when the truck was permitted. If there have been, a whole new set of plans may need to be submitted along with a whole new approval process.
How Much Does An Ice Cream Truck Cost?
How much an ice cream truck will cost you will depend on which of the 4 routes above you decide to pick. For example, a brand-new truck can cost anywhere from around $40k to $60k – this is before your kitchen fitting costs.
Likewise, if you are hoping to buy an already fully compliant ice cream truck (Route 4), then you can expect to pay between $30 to $60k. The price in this scenario will largely depend on if you are buying the existing truck and its business or if you are just buying the truck.
In the route I chose (route 3) – buying a previously used ice cream truck that was mostly compliant – the truck cost me $12,000 to buy. It then cost about $30,000 to get the truck operational and fully permitted.
Costs can obviously vary based on location, negotiation skills, etc.
What Type of Ice Cream Business Do You Want To Start?
It doesn't stop there. What type of ice cream truck you want to start will impact the startup cost. Let's look at the different types of ice cream trucks. These are:
A. Pre-Package Ice Cream Truck (CHEAPEST)
B. SCOOPING TRUCK
C. SOFT-SERVE TRUCK
A.      Costs To Start Pre-Packaged Ice Cream Truck
The cheapest type of ice cream truck to start is a pre-packaged ice cream truck.
This type of ice cream truck just sells pre-packaged ice cream, popsicles, and ice cream sandwiches. Think of the ice cream truck that comes down your road playing music or is at the beach, etc.
These pre-packaged ice cream items are stored in the freezer in the truck. As everything is pre-packaged and there is no scooping or soft-serve it usually means Health Department requirements will be minimal.
You can buy a used ice cream truck with freezers for under $10k.
There will, however, be additional costs. These would be:
any mechanical repairs (take a mechanic with you and try to get the cost of the repairs taken off the sale price).
a new wrap if you want your branding on the truck.
permitting (for most health departments just registering new owners will involve a fee).
any other permits required to operate where you want to sell ice cream.
miscellaneous parts such as a point of sale if that isn't included.
ice cream.
some working capital.
Approximate start-up costs for a basic pre-packaged ice cream truck are $10k-$20k.
B.      Costs To Start Ice Cream Scoop Truck
A scooping truck is a truck where there will be one or two freezers in the truck that holds buckets of ice cream for scooping.
A lot of health departments will still have a host of requirements for a truck like this. Why? Because you will be dealing with open food and serving it. It is not the same as just grabbing a pre-sealed item that was produced in a food-compliant environment and handing it over.
It involves scooping, adding toppings to the ice cream (potentially), and washing up ice cream buckets and scoopers.
For our ice cream truck to be approved the health department required a three-compartment sink, plus a hand wash sink, plus a utensil drawer, a certain amount of storage space, a certain amount of prep counter space, and a wall to divide the driver's area from the serving area. These are just some of the requirements we had to fulfill.
A scooping truck will, therefore, be more expensive to launch than a pre-packaged ice cream-only truck.
The total cost will depend on where you launch (the stricter your local health department requirements the more expensive it will work out). It also depends on which of the four routes you take (buy new, buy used, do you the build out yourself, etc.).
A general price range to launch a scooping ice cream truck is $25,000-$60,000.
How Much My Scooping Truck Cost
To give you an idea of the cost involved below are the personal costs involved in opening my first scooping truck:
---
| Our Ice Cream Scoop Truck Purchase | Cost |
| --- | --- |
| Cost of secondhand truck | $12,000 |
| Storage of truck whilst we put plans together | $546 |
| DMV registration | $1,407 |
| Health department plan check fees | $649 |
| Health permit | $787 |
| Mechanical work | $5,380 |
| Build out | $15,313 |
| Freezers | $1,234 |
| Water pump | $105 |
| Metal table | $115 |
| Generator | $897 |
| New driver seat | $159 |
| Miscellaneous | $2,000 |
| Total | $41,592 |
---
I bought our ice cream truck from a buyer on Craigslist. The truck needed a lot of work doing to it. It was a historical truck so had been approved by the local health department, but the rules and requirements had changed since.
It already had the four sinks we needed so that shaved a lot of our build-out costs. That said it still cost around $15k in build-out fees to get the floor redone, aircon fitted, a wall build, storage space fitted, the generator area built out, as well as other alterations made.
Hidden Costs To Starting An Ice Cream Truck – DMV
DMV registration was way more than we planned. The previous owner had not kept up to date with his registration payments. A lot of people selling a truck will do this as it is the responsibility of the new buyer to pay any back registration fees and taxes due.
Unfortunately, as the title had already been transferred that debt became ours. This is something to watch out for. Always double check there is nothing owed on the DMV title.
Mechanical work also costs a lot more than we anticipated. We didn't take a mechanic with us when we bought the truck. This was a rookie mistake. I would highly recommend taking a mechanic along to any potential truck viewing.
Hidden Costs Specific to Scoop Ice Cream Trucks
How are you going to get your ice cream for the truck? Are you going to buy pre-made ice cream and scoop it? Or are you going to make the ice cream yourself? While I always advocate making your own unique ice cream – if you run a scooping truck in this scenario, you will also need a commercial kitchen where you make the ice cream.
C.     Cost Of Starting Soft Serve Truck
When we first started looking for a truck, we were looking for a soft-serve truck (our ice cream shop sold soft serve at the time).
However, we soon scrapped that idea and changed the truck concept to a scooping truck. Why? Generator requirements.
Powering Your Ice Cream Truck
I don't want to get too technical here, but it is worth talking about how you power an ice cream truck here. For this I mean how you power your freezers, sink pump, interior lights, water heater, A/C, etc.
First, you cannot power your ice cream truck off your truck battery.
Secondly, to power everything on your truck you will need a generator. Generators come in three forms:
Gas – is the most widely available and cheapest option (but does require gas, maintenance, and regular oil changes). You will also need an inverter generator (these are the quietest generators available) as most Cities ban others due to noise.
Electric – these are separate battery packs that need to be regularly charged. They are expensive and usually only work for very small wattage requirements.
Solar – super expensive, but clean and environmentally friendly. You won't have to worry about maintaining generators, oil changes, gas, or temperamental generators in the hot heat.
What Generator Will I Need?
Generators are measured in Watts. The higher the wattage the more you can power with the generator. To calculate how much wattage, you need from a generator you will calculate the total maximum watt load of every appliance on your truck.
Make sure you work off the maximum wattage. Especially for freezers. This is because when an electrical item first starts it will draw in more power than when it is running. This max load is for a short period of time but that is why you need a generator that can spike to the maximum wattage of your truck.
For example, my ice cream truck used a Predator 3500 inverter generator. It has a peak wattage load of 3500 watts and a running wattage of 3000 watts. This thing would just about power two chest freezers, A/C, lights, water pump, water heater, and all my plug sockets. If everything came on at once it would struggle. With A/C running it would run at its maximum.
At the time this was the maximum wattage Predator generator available from Harbor Freight. Since they have introduced a 9500-watt generator.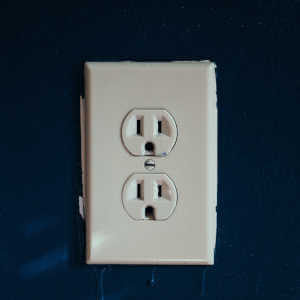 Always Buy the Warranty on Generators
Last couple of points on generators. If you want the most reliable and best generator on the market, then Honda is the brand you want. They make the best generators. But they are the most expensive.
Harbor Freight's Predator line is a second in class for me. They are a solid alternative version at a much lower price point. However, at this price reliability is lower. In three years, I changed my generator 4 times. Various things went wrong.
However, because I had a warranty on the generator all I had to do was empty it of oil and gas and return it to Harbor Freight. I would get a new generator and just pay for a new 2-year Warranty. It was worth it.
Buy the warranty.
Power Requirements for Soft Serve Truck
For a soft-serve truck, the power requirements go to a whole different level. A normal generator will not cut it for a soft-serve truck. You will need a high-end full fledge dedicated engine sitting in the back of your truck that is dedicated to powering your soft serve machines.
To get going soft serve machines need A LOT of power.  You are talking at least 4,000/5,000 watts+ just for one machine.
Soft Serve Machines Are Expensive
Soft serve machines are expensive. Especially if you buy them new. A new decent brand of a machine with an okay serving capacity can cost $12,500+ (some can even be over $20,000). The machine depreciates a lot in value, so the secondhand market offers much better value for money.
Also, depending on if you are using a pre-made soft serve mix or your own soft serve mix you may have to factor in the cost of a commercial kitchen.
The Total Cost for a Soft Serve Truck
I have seen second-hand soft serve trucks cost as much as $135,000.
As always, the cost will depend on how you do it, where you are based and the route you take. However, a rough estimation to start a soft-serve ice cream truck is $40k-$100k. This is due to the cost of soft serve machines, the space required to hold multiple soft serve machines, and the generator requirements.
The Final Lick – How Much Does It Cost to Start an Ice Cream Truck?
How much does it cost to start an ice cream truck? Well, the answer depends on the type of ice cream business you want to start.
Now, which one should you start is a whole different question. Whilst I always believe that making your own ice cream is the best there may be a strong market for pre-packaged ice cream. In fact, you can differentiate yourself with pre-packaged ice cream by making an amazing and unique-looking truck and offering great service. After all how many of those pre-packaged ice cream trucks always look so beat up and unloved.
Starting a soft serve truck will cost you the most, but a lot of people have a particular love for soft serve. Just look at brands like Mister Softee. They also tend to work the best at events, catering, and festivals.
The middle route and the best in my opinion is to create your own scoop ice cream truck. It lets you offer a variety of rotating flavors. It also lets you charge a higher premium for your ice cream as well as build a unique brand and following.
Some helpful resources
Are you looking for a truck? Then below are some useful websites and resources to help you find the perfect truck for you. I don't have any connection to these sites. They are just for reference and I can not recommend them for purchasing a truck.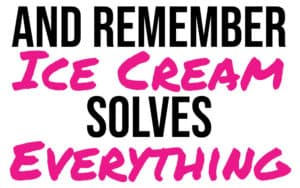 ---
Time To Learn Some More
Want to learn more on your path to ice cream entrepreneur success. Then check out some of my other articles.