How much does it cost to start an ice cream shop? It has finally happened. You have finally decided to start an ice cream shop. But how much does it cost to start an ice cream shop? In this post, I want to share with you everything you need to know about the finances and costs involved in starting an ice cream shop. Owning an ice cream shop can be an incredibly profitable business. Plus having a physical location gives you the opportunity to create a brand and customer following which translates to lines out of your door.
I have launched, opened, ran, and managed an ice cream shop since 2016. I opened my ice cream shop in Los Angeles – a place I never visited before. It was one of the best decisions I made. That said, opening an ice cream shop does of course come with its challenges, which you can learn more about in my article – Challenges of Running an Ice Cream Business.
Before you even get to those you need to know how much it will cost to start an ice cream shop. Let's find out.
How Much Does It Cost To Start An Ice Cream Shop?
As a general rule, whilst it is possible to start an ice cream shop for a five-figure sum, it will generally cost a six-figure sum to open an ice cream shop. The cost to start an ice cream shop is usually in the region of $100,000-$500,000. The startup costs of an ice cream shop will depend on many factors including:
Franchised vs Non-Franchised Ice Cream Shop
Soft Serve vs Scooped Ice Cream Shop
Unit Already Built Out vs Carrying Out Build Out Yourself
Make Ice Cream On-Site vs Just Serving Ice Cream
Big Ice Cream Shop vs Small Ice Cream Shop
New Equipment vs Used Equipment
Let's go through each of these in turn.
A.        Franchised vs Non-Franchised Ice Cream Shop
As a general rule, it will be cheaper to start a non-franchised ice cream shop than a franchised ice cream shop.
What is a franchise?
At this point, I should briefly explain what a franchise is. A franchise is a business model where an already existing business (a franchisor) sells you (a franchisee) the right to use their business model (branding, products, training, etc) for your business. You basically find the right location, hire people, train them, and manage the location. The franchisor provides everything else.
Franchise historically tends to be most popular in the fast-food arena. Think McDonald's, KFC, Subway, etc. However, they have also been popular in the ice cream world (particularly when it comes to frozen yogurt brands).
Examples of the most popular ice cream franchises include:
Baskin-Robbins
Dairy Queen
Cold Stone Creamery
Yogen Früz
Kona Ice
Ben & Jerry's
Mr. Softee
Rita's Italian Ice
Menchies
Freddy's Frozen Custard & Steakburgers
Carvel
Yogurtland
TCBY
Pinkberry
Orange Leaf Frozen Yogurt
The Häagen-Dazs Shoppe
Creamistry
How Does Franchising Work?
To open a franchise there is usually a set of minimum requirements.
First, you need to have a minimum amount of net worth (this varies depending on the franchise).
Secondly, there is usually an initial franchise fee required to open the franchise. For an ice cream shop, this can be in the region of $25k-30k.
Thirdly, once you are up and running you will usually have to pay an annual franchise royalty and a marketing fee to the franchise. Think of this as a "rent" to the franchisor for being able to use their brand and business model.
How Much Does It Cost To Start A Franchise?
At the time of writing the initial franchise fee to open a Baskin-Robbins shop is $25k and the initial franchise fee to open a Haagen-Daaz is $30k.
You will usually have to take part in franchise training – travel and accommodation for this can cost around $5k. Plus franchisors will have high expectations as to how franchisees build out their ice cream shops. If you franchise an established ice cream brand you will be representing their brand. This means they will want you to carry out the best job possible when building out the ice cream shop. Well, at least if they are good franchisors.
Is a franchise more expensive than a non-franchise ice cream shop?
It is more expensive in most cases to open a franchised ice cream shop than a non-franchised shop. That said you will have the support and experience of a well-known brand behind you. You also are going to be able to leverage the goodwill of their brand.
What are the main pros and cons of a franchise?
Pros
What's the main advantage of a franchise? It is the ability to leverage someone else's business model. A model which has already been tried and tested. You don't have to worry about what you are going to be selling, how you are going to be selling, how are you going to market it, etc.
If it is an already established brand most people will already have heard about it. This means customers come in from the get-go. The franchisor will teach you everything you need to know. Your only responsibility will be to manage the shop day-to-day.
Cons
You are tied in with the franchise. A lot of franchises rise and fall with trends. This can be particularly true for some frozen yogurt brands. You don't want to be caught with a franchise that is at the height of its popularity and is now declining.
You also won't be given much leeway to change, improving or offering different items. Any changes will usually have to be pre-approved by the franchisor. Ultimately, the franchisor is the boss.
A franchise is only as good as the franchisor. If they stop developing or improving the brand you may then start to suffer.
B.        Soft Serve vs Scooped Ice Cream Shop
As a general rule starting a soft-serve ice cream shop will usually be more expensive than starting a scooping ice cream shop.
What is Soft-Serve?
The soft-serve concept is when ice cream is served via soft-serve ice cream machines. It is called soft serve because it comes out softer than traditional ice cream. It is also what gives this format its traditional spiraled serving format. Soft-serve can be used to serve a variety of formats such as ice cream, custards, sorbets, or frozen yogurts.
Why Does Soft Serve Cost More to Start?
Soft Serve ice cream machines are expensive.
When we opened our ice cream shop, we started the concept as a soft-serve ice cream shop. We bought two soft serve machines new. The total cost was $13.5k each. A total of $27k.
The machine also required additional drains to be fitted in accordance with Health Department requirements. Both machines were air-cooled. This means they were loud. You can get water-cooled soft serve machines, but they are more complicated and require separate plumbing.
The Problem with Soft Serve Machines
This is the thing about soft serve machines. Unless you use pre-made ice cream mix designed specifically for the machine, they are going to be unreliable. If you decided, like we did, to use your own recipe for the soft serve mixture then prepare for chaos to break loose.
The machines need constant attention and care. It is not a case of just plugging them in, pouring some mixture in and walking away. All of this is before taking into a count how long it takes to clean and assemble a soft-serve machine.
Be prepared to set aside a minimum of 1 hour to just clean out one soft-serve machine. Then at least another hour to put it all back together. This is a task that will need to be done daily or at least every other day.
How We Overcame Soft Serve Issues?
We then had so many problems and issues with the soft serve machines that we changed our whole ice cream concept to soft-serve a few years in. We spent $7.5k on a second-hand Emery Thompson batch freezer and $800 on an Excellence dual temp freezer to scoop our ice creams from. It cost us less than a third of the price to set our shop up as a scooping operation than a soft serve.
Sadly, we are not the only business to experience this with soft serve machines. I have known lots of other ice cream shops to buy a soft-serve machine as an additional offering only to stop using it a couple of months later.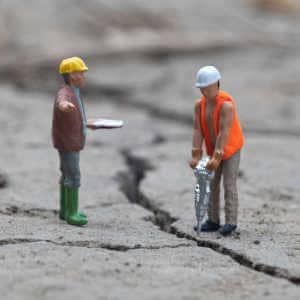 C.         Unit Already Built Out vs Carrying Out Build Out Yourself
When starting an ice cream shop you have two options.
Option 1
You can pick a lease that has already been occupied by another ice cream shop. The location will already have been built out as an ice cream shop and so should (in most cases) simply require a change of ownership from the health department.
This should be quicker and cheaper. This situation will usually require key money (usually a six-figure amount). Key money is a way for previous tenants to try and get something back for all the money they have spent on the space. This key money will be payable to either the landlord or to the old tenant. Occasionally key money won't be required if the landlord just desperately wants to fill the space.
Taking a space that has already been built out by an ice cream shop can potentially save money and saves time. It will be a lot quicker to open. However, there are two things to consider when taking this route.
Make sure that there are no substantial changes you want to make to the space. Any significant changes may require a whole new plan check from the health department – which will cost money and time. Be warned I knew of a bakery that took over an old bakery lease. It was supposed to be a simple title change situation. The city health department came in and required a whole new ceiling for the unit. This massively delayed the opening and involved huge costs the owner was not prepared for. Sadly, the business didn't last very long. Be warned when taking this route – unexpected health department requirements are still possible.
You will want to try to ascertain why the previous ice cream shops had to close. Was it due to a poor product or poor management? If so, it could be a great space to snap up. Did it close due to poor sales despite a great product and management? If so, the space may be risky. Try looking at the previous ice cream shop's online reviews to ascertain if it failed due to a locational issue or otherwise.
Option 2
You find a least and build it out from scratch.
This is the option that we took. Why? Well, because the lease we found was in a great location for what we wanted. The store we took over was a candle shop. What do candle and ice cream shops have in common? That's right. Nothing.
This leads to the main disadvantage of this route. We had to completely gut and remodel the whole space to make it a commercial ice cream kitchen and storefront. A process that took nearly over a year and having to deal with getting approvals from separate planning departments, health departments, our landlord, and the local architecture board.
The total cost was around $180k.
D.        Make Ice Cream On-Site vs Just Serving Ice Cream
If you are re-selling ice cream, then you will not need a full kitchen behind the store. You will usually still need a hand wash sink, usually a three-compartment sink (to wash up buckets, utensils, etc), and freezers. But you may not need things like prep space, an ingredient washing sink, or ice cream machines. 
Making your own ice cream on-site will require a lot more equipment and space. This means a greater costs for starting than a simple scooping operation. However, bear in mind if you are opening a second ice cream store you could always use this scooping model where your original kitchen makes everything for the second store.
E.         Big Ice Cream Shop vs Small Ice Cream Shop
This is a bit of an obvious one, but the larger the lease the more it will cost to build-out.
Architects often charge on a per square foot basis when quoting work so be aware of that. You will be charged more for a 1000 square foot lease than a 500 square foot even if they both require the same numbers of sinks fitted.
The biggest mistake ice cream shops make
A mistake a lot of ice cream shops make is getting a space too large. Remember you are an ice cream shop, not a sit-down restaurant. Ice cream does not produce the same ticket sales as a restaurant. A good average ticket will be $10 to $14. That means you need to be open longer and sell to lots of people.
By having too much space you are literally paying for something you do not need.  
F.         New Equipment vs Used Equipment
Used equipment costs less than new equipment (in the short term anyway). I have had mixed experiences with new vs old equipment in our ice cream shop.
For example:
The used Emery Thompson batch freezer I bought for $7.5k? Amazing! It has churned out over one million dollars worth of ice cream. It has been reliable and produces hardly any issues.
The used double door standing freezer I bought – nightmare! I am constantly having issues and having to spend money on repairs. I wish we had just bought a new one in the first place – it probably would have been cheaper in the long run. Sadly, it has gotten to the point where it is cheaper to fix it each time than buy a new freezer. Commercial big freezers can be $4,000 plus.
The $27k we dropped on brand new soft serve machines? Even more of a nightmare. Sold them at a huge loss a few years in and replaced them with the used batch freezer which has been amazing.
In my experience sometimes used has worked out better, sometimes new has worked out better. Regardless, buying all used equipment will always reduce the start-up costs of opening an ice cream shop (even if it increases headaches and running costs in the long run).
If you buy used make sure it is from a reputable source, comes with a warranty, and has been inspected and serviced beforehand.
How Much Did It Cost Me To Open My Ice Cream Shop?
Ok, so the million-dollar question. How much did it cost me to start my ice cream shop? Going through the above variables these are the ones that apply to my ice cream shop.
Franchised vs Non-Franchised Ice Cream Shop
My ice cream shop is not a franchise so there were no franchise fees or training fees involved. This reduced the startup fees.
Soft Serve vs Scooped Ice Cream Shop
As described above, we spent $27k on new soft serve machines only to move to scoops and replace them with a used $7.5k batch freezer. We would have saved the best part of $20k had we just launched as a scooped ice cream shop rather than a soft serve.
Unit Already Built Out vs Carrying Out Build Out Yourself
The lease we signed was an empty shell (it was a candle shop previously) so we had to completely build it out to get it food compliant.
Our architect build-out fees (before equipment and permitting fees) were $72k. The equipment costs were $34k (although they would have worked out closer to $14kl had we launched as a scooped ice cream concept).
Our city and county permitting fees were $7k (our architect told us these were extremely expensive fees). You may live in an area where they are cheaper.
Make Ice Cream On-Site vs Just Serving Ice Cream
We had a small commercial kitchen built at the back of our ice cream shop.
Because we make the ice cream in the back of our store, we needed a fruit wash sink as well as a three-compartment sink, and hand washes built. Had we just been scooping ice cream (i.e. not making it) we would have still been required to have a three-compartment sink and a hand wash sink (but not the fruit wash sink – unless we were still offering fresh fruit toppings that is).
This means it worked out a bit more expensive to build out the backspace. It wasn't hugely more expensive because we still would have been required to fit four of the five sink basins even if we were just scooping bought ice cream.
Big Ice Cream Shop vs Small Ice Cream Shop
Our ice cream shop is 455 square feet. This includes the front of house, the back kitchen, and the restroom (which is 50 sq ft). Our architect charged us on a square foot basis so it would have worked out more expensive if we had signed a lease closer to 1000 square feet. You will also have to allocate more working capital when launching a larger ice cream shop as your rent will tend to be more expensive as well as other costs such as utilities.  
New Equipment vs Used Equipment
As described above, we bought a combination of used and new equipment and had mixed experiences. Something, however, like a sink basin – if you can get a used version of the one you want then definitely go for it. I can't see how much can go wrong with a used sink basin.
In total it cost us around $180k to open our ice cream shop. Although as already mentioned, had we opened as a scooped ice cream shop rather than soft serve, it would have cost more like $160k.
Ice Cream Shop Expenses
I have included some of the biggest expenses we incurred in the table below.
---
| Our Ice Cream Shop Start-Up Expense | Cost ($) |
| --- | --- |
| Security Deposit* | 25,000* |
| Architect Build Out Fees | 72,200 |
| Soft Serve Machines | 27,000 |
| Other Equipment (sinks, fridge, freezer, etc) | 7,000 |
| Fixtures and Fittings | 5,500 |
| Outdoor signage | 7,500 |
| City and county permit fees | 7,000 |
---
*We did get $15k of the lease deposit back in rent reductions over the first three years of the lease, as specified by the terms of our lease.
The Final Lick – How Much Does It Cost to Start an Ice Cream Shop
How much does it cost to start an ice cream shop? For me, it cost $180k to open my small ice cream shop in an expensive city.
In the above, I have listed all the factors that you need to consider when you are starting your own ice cream shop. The main unknown when it comes to cost will be your location. Some locations are just cheaper than others. Different cities are different to deal with. Some are more complicated and costly.
I opened my ice cream store in a prime area in Los Angeles. This meant most of my costs would be higher.
What Should Be Your Budget to Open an Ice Cream Store?
You want to budget a minimum of $100,000 to start an ice cream store. I personally would aim for between $100,000 and $200,000. Depending on what you chose to do it may cost you more. If you are savvy, it may cost you less. Great. But $100,000 to $200,000 is a good starting budget for a smaller ice cream store – around 500 sq ft.
What is the most cost-effective way to open an ice cream store?
What is the most cost-effective way to open an ice cream store? I would recommend finding a lease that was already used for a food business. The biggest cost is all the plumbing and drainage you need to convert a non-food space to a food space. If you can find a spot with most of the "skeleton-kitchen" basics in place it should save you a lot.
I would also focus on making scooped ice cream via a single batch freezer. This will let you create your own unique ice cream. Yes, scooping pre-made ice cream can be a lot cheaper and easier to do – but you are ultimately not creating your own unique brand.
Get a budget in place
Finally, be ruthless with your costs. Negotiate everything. Make sure you have a budget in place and use it as a negotiating tool – "…ah, this is my budget – I just can't move from that…". Having a budget in place will give you more control and power over costs and negotiations.
We pushed hard to get our architect fees down as much as possible (by about $20k). The more you can save the better.
Also, whatever your timeline for opening – double it.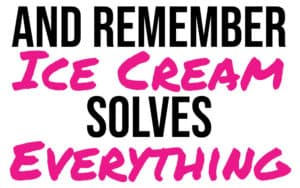 ---
Time To Learn Some More
Want to learn more on your path to ice cream entrepreneur success. Then check out some of my other articles.