Ice Cream Shop Profits. In this post, I am going to talk about profit. That's right – how much money you can make from running an ice cream shop. I have mentioned before that 29% of people start their own business because they want to be their own boss (Guidant Financial). But let's face it, you are also starting your ice cream business to make money. If your ice cream shop is not profitable, it can't exist. So, like with any business, understanding how the financials work is a key part of your success. That is why in this post I want to go through the financials you need to understand to run an ice cream shop.
How Much Profit Will An Ice Cream Shop Make?
As a general rule, a successful independent ice cream shop will make a 10%-20% net profit. This will tend to be a five-figure net profit sum (e.g. $36,000-$72,000). However, sales and expenses will differ across all ice cream shops. There are plenty of ice cream shops making no profit. There are also some ice cream shops making six figures net profit.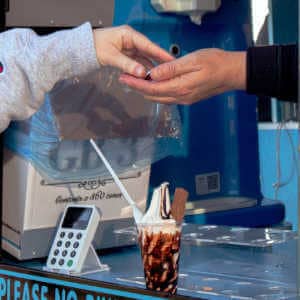 How Much Revenue Does an Ice Cream Shop Make?
As a whole, a good revenue figure for a small independent ice cream shop to aim for is $360k in annual sales. Don't get me wrong there are plenty of ice cream shops doing much less than this (think in the $100ks). There are also plenty of ice cream shops doing much more than this (even high 6-figure sums – 7-figure sales are possible but rare).
However, $360k is a realistic and successful revenue figure for a small independent ice cream shop to aim for. This works out at an average of around $1k per day in sales (after accounting for the days every year you will close such as Christmas Day, New Year's Day, etc.). Trust me when I tell you that $1,000 a day in sales is busier than you think.
Sales will Fluctuate
Although the average revenue works out at $1k per day, ice cream shop sales will actually fluctuate on a daily, weekly, and monthly basis. Most ice cream shops make most of their sales in the evening, Friday-Sunday, and during the Spring and Summer months.
My ice cream shop often sells more from 8 pm-10 pm than it does the rest of the day.
Sales can go down by as much as 50% in the colder winter months and sales on a Saturday can be as much as three times sales on a Monday. For example, you may go an hour (or longer) without sales on a cold Monday but have a line out of the door on a hot Saturday night.
Doing multiple 4-figure daily sums for a small independent shop is a stretch. At my ice cream shop, we regularly will do $1.5k to $2k on a Saturday and Sunday. $2k plus in one day would mean a non-stop line out of the door.
How Much Does It Cost To Run an Ice Cream Shop?
As a general rule, below are some rough and ready margins for the costs involved in running an ice cream shop.
---
Main Ice Cream Shop Expenses
Discounts 2%
COGS 30%
Rent 8%-12%
Utilities 3%
Staff 25%
Merchant processing fees 3%
Insurance 1%
Miscellaneous 3%
---
Let's go through each of the above ice cream shop expenses in turn.
1. Ice Cream Shop Discounts
When I talk about discounts, I am talking about ice cream that you discount (eg 10% off) or give away. For example, if you sign up for a loyalty system (which you should) for customers, expect to give about 2% of sales away in loyalty discounts.
We have an online loyalty system at our ice cream shop, where you get a point for every scoop purchased. Then when you get to 10 points you get a free scoop.
We do this through Square loyalty. I am happy to do this as it really rewards loyal customers and encourages repeat business. Discounts have always formed around 2% of our sales.
Keeping regular and loyal customers happy is essential to the success of an ice cream shop. Having people sign up to your loyalty system also lets you create a list for marketing emails. I will go into this in a separate email, but our weekly marketing email is one of our strongest marketing tools. This goes out to over 2,500 people every Saturday and having of open rate of 30% to 45%.
Don't fight discounts and loyalty systems. What you lose in discounts you will make up for in regular customers. Also please digitize your loyalty system – paper punch cards just cause confusion.
2. Ice Cream Shop Cost Of Goods Sold (COGS)
What Is the Average Profit Margin on Ice Cream?
On average the gross profit on ice cream is around 70%.
The other way of looking at it is the average cost of goods sold for ice cream is 30%.
Costs of Goods Sold (COGS) is essentially the cost of your ingredients, the cup the ice cream is served in plus the spoon and napkin handed to the customer. Think of COGS as everything that is handed over to the customer. In my opinion, COGS is the most important financial figure. Why? Because amount left after COGS must cover everything else in your profit and loss statement.
Our ice cream shop's COGS used to be around 25%. It has in recent years gone up to 30%. This is for two reasons.
First, are ingredient price increases (aka inflation).
Secondly, we started to offer more special ice cream flavors that required higher costs and better-quality ingredients. Yes, these increased our COGS by a few percentage, but they also help to increase our sales volume.
How Much Should I Focus on Reducing COGS?
COGS isn't one of the expenses I would focus on reducing too much, because ultimately what you make your ice cream out of will determine your sales.
Yes, there are some super cheap ice creams out there you can buy from a wholesaler and sell for huge margins. However, there is only so much you can charge for an ice cream scoop that isn't special. Also, just reselling a cheap ice cream isn't going to encourage repeat business.
The 30% Rule For COGS
The main thing you need to focus on is not letting your COGS get much higher than 30%. Do not let it get to 40% plus. At this point, it would be challenging to make a profit.
Aim to sell a quality special ice cream at around 30% (if you can offer special ice cream at less than 30% then win-win). Remember your COGS will include sampling costs as you will never really know how much you have given away in samples.
3. Ice Cream Shop Rent
The general industry rule is that ice cream shop rent should be 8-12% of sales.
I know when we were looking for our ice cream shop lease, we were told to aim for around 10%. However, we ended up choosing a very small lease in a very prime and affluent area.
Rent for last year formed 13% of annual sales – so a little higher than 10%.
If I had the choice between a cheap lease in a less desirable location and a slightly more expensive lease in a great location, I know what I would pick. The slightly more expensive lease in a better location. At least you have the chance to sell more ice cream, even if it comes at a premium.
Signing a lease in a bad location is the worst mistake you can make when starting an ice cream shop. It means you need to work harder to get people into your ice cream store.
4. Ice Cream Shop Utilities
Ice cream shop utilities cover water, electricity, and Wi-Fi (most ice cream shops won't need gas unless you have a gas-powered water heater – we don't).
As a general rule, utilities form about 3% of sales for an ice cream shop. Plan for electricity to be the most expensive bill out of the three. I never cease to be amazed at how expensive our ice cream shop electricity bill is. It can be as much as $700 in a month for our 455-square-foot unit.
Why so high? Freezers and batch freezers use up a lot of energy and pump out a lot of heat. This means AC systems must work harder and longer to keep your store cool. Especially in hot areas.
5. Ice Cream Shop Wages
On average, plan for your ice cream shop wages to come to 25% of sales. This figure includes employer taxes but does not include tips.
Our ice cream shop tends to only have one staff member in at a time-serving during the shifts. Also, normally 5 days a week we get a staff member to come in in the morning for 5 hours before we open to make the ice cream.
We operate in an expensive city and pay our employees $16-$18 per hour. Employees can then add as much as 35% extra from tips.
Do I Need A Manager?
You do not have to hire a manager when starting an ice cream shop – instead you can manage your ice cream shop yourself. We do not have a manager. I manage our store. I do not do any serving shifts (only if there is a staff cancellation that nobody can cover – then I will of course cover). This means I essentially buy ingredients, text our staff every day as to what needs to be done, drop ingredients off at the store, set the schedule, run social media, check-in on the store, run payroll, plan flavors, and create new flavors.
Although it is a commitment it is not a full-time job.
I normally check in on our ice cream store and drop ingredients off 3-4 times a week (I am currently aiming to make sure it doesn't go above 3 times a week). This allows me time to spend with my family, be there to collect my daughter from school, as well as focus on other business ventures (as well as write this blog).
It Will be Slower To Begin With
Full disclosure – the first few years of our ice cream shop were a lot slower than expected. I and my wife had to carry out a lot of the shifts ourselves. This was so we could keep payroll down and ensure the viability of the business.
To begin with, you may have to carry out some of the shifts to keep payroll down. This is to ensure you aren't burning too much money on payroll before your ice cream store is ready.
6. Ice Cream Shop Merchant Processing Fees
As a whole, merchant processing fees for an ice cream shop will be around 3% of sales. Don't fight this one. You need to be able to take Apple Pay, Google Pay, and all forms of Credit Cards.
What Do I Use For Merchant Processing?
Our ice cream shop had used Square since we launched six years ago.
We use it for all our store transactions. I also used it for my ice cream truck and for sending all my invoices for wholesale grocery orders. It is simple, easy, and takes all forms of payment (including Amex, Discovery, Apple Pay, and Google Pay).
We also use Square to run payroll (it is SO easy), for our customer loyalty system, and for sending out our weekly newsletter.
The total cost is $225 total per month for Square payroll, loyalty, and newsletter functions plus of course the merchant processing fees for customer transactions. The total this tends to come to about 3% of sales. It is a complete system and works.
7. Ice Cream Shop Insurance
As a general rule, general liability insurance and employee liability insurance for an ice cream shop will be around 1% of sales. Obviously, the more hours worked by staff the higher your employee liability will be.
8. Ice Cream Shop Miscellaneous Costs
In most years miscellaneous costs for an ice cream shop will tend to form about 3% of sales.
Miscellaneous costs include things such as freezer repair costs (which are painful but not as painful as ice cream truck repairs – see my post What Are the Challenges In An Ice Cream Business).
It will also include some admin costs such as:
an email account subscription-like Gmail
a subscription to an accounting service like Xero or Quickbooks
Paying your accountant to file your business tax return once a year
City and Health Department permit fees (yes, they must be renewed every year)
Cleaning supplies.
Random expenses (need to replace your scoopers, ice cream buckets, or staff aprons) etc.
You get the idea as to all the miscellaneous costs that can add up to 3% of sales.
Other Expenses – Ice Cream Shop Profits
A few things to note on a few expenses that weren't included above.
Fundraising (1%)
Our ice cream shop gives back about 1% of sales – mainly to local schools. We do school givebacks where on a set date every week we give 10% of sales during a certain time frame to a school.
This obviously isn't an essential expense like rent or wages, but I believe it is something we should do as part of the local community. It also helps to build a reputation locally.
Financing Costs
The above ice cream shop expenses do not include any financing costs. We started our ice cream shop by selling a personal asset and using those funds. If you need a bank loan to open your ice cream shop, you will have to account for the monthly repayment costs.
---
Can You Make Money Selling Ice Cream?
As you can see above, the above expenses total 72-76%.
At sales of $360,000, this would in theory produce profits of $86,400-$100,800.
HOWEVER, there WILL be expenses that will run higher than the above percentages, plus there will be extra expenses unique to your ice cream shop, plus if you need to take out financing this could form a hefty percentage every month.
Net Profit
A more realistic net profit percentage to aim for is 10-20% (so $36,000-$72,000). A net profit percentage of 10-20% may sound like a lot, but the net profit percentage for an ice cream shop needs to be a lot higher than say that for a full-scale restaurant.
Most successful full-scale restaurants will have a net profit of less than 10%. BUT their sales will be a lot higher than an ice cream shop's sales (often in the seven figures). This makes the dollar amount a lot higher.
---
The Final Lick – How Much Profit Can I Expect to Make?
Ice cream shop profits. On average, most independent profitable ice cream shops will make a five-figure net profit. This will be with a net profit margin running at less than 20%.
Yes, there are some ice cream shops that make a 6-figure net profit and there are lots that make losses. But a 5-figure net profit is a realistic but achievable aim.
A super successful ice cream shop will be selling in the region of $500k to $1 million still managing to operate off roughly the above percentages. In this instance, you could be making 6-figures or even multiple 6- figures in profit.
A Few Other Things To Consider…
Remember if your ice cream shop seriously underperforms your rent could end up being a much larger percentage of sales. The same is true for wages. Regardless, you will have to stay open to your set schedule.
How Long Will It Take To Become Profitable?
Finally, how long will it take to be profitable? Please bear in mind that it can take several years for an ice cream shop to become profitable. It takes time to build regular customers and sales.
It took a good 4 years to get to the point where we are today. A point where I don't do shifts in the store, manage 3 times a week, and where it regularly does $1,000+ per day.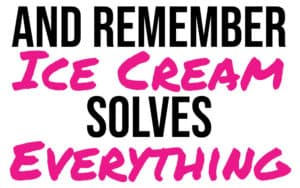 ---
Time To Learn Some More
Want to learn more on your path to ice cream entrepreneur success. Then check out some of my other articles.