How do you start your own ice cream business? Do you have a secret family ice cream recipe that you think the World would love? Or have you simply always had a dream of starting your own ice cream business? Or perhaps you have noticed a lack of ice cream shops, trucks, or carts in your local area, and you want to take advantage of that gap (if you are wondering IBISWorld shows the US ice cream shop market to be worth a total of $5.1 billion and growing at 0.5% per year).
Well, how do you go about starting your own ice cream business? Luckily, I am well placed to help you answer this question. For the last decade, I have launched ice cream businesses across two continents and via multiple routes to market. This includes shops, wholesale, events, and ice cream trucks.
My Ice Cream Journey
My ice cream journey has been anything but ordinary. It is one that has seen me:
open and build out an ice cream shop from scratch in Los Angeles;
sell both soft serve and scooped iced cream from said ice cream shop;
build out two commercial ice cream kitchens in two different continents (the UK and US);
build out and launch an Ice Cream Truck that served the likes of Google, YouTube, Paramount Studios, Disney, Nickelodeon, and Amazon; 
sell ice cream to over 100 stores in the UK, including one nationwide chain; and
sell ice cream pints via a distributor and to leading grocery store chains in the US.
Starting an ice cream business can be one of the most fun entrepreneurial endeavors you can undertake. That said, not all ice cream is the same. That is why I know the most important question you need to ask if you want to start an ice cream business is:
"What kind of ice cream business do you want to start?"
What exactly are the types of ice cream business models out there?
---
Types of Ice Cream Business Models
There are five main ways you can start an ice cream business:
by opening an ICE CREAM SHOP
by opening an ICE CREAM TRUCK;
by selling ice cream pints to GROCERY STORES (think Ben & Jerry's, etc);
by opening an ICE CREAM CART; and
by selling ICE CREAM PINTS online.
The right route for you depends on factors such as access to capital, the climate in which you live, and what your long terms aims are in starting an ice cream business.
Below I will go through the pros and cons of each type of model.
Index
---
Analysis of Different Ice Cream Business Models?
---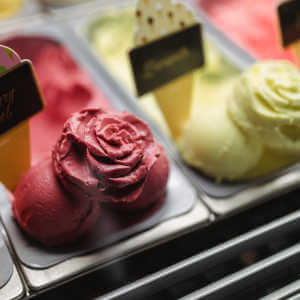 Opening An Ice Cream Shop
---
| Advantages of Starting an Ice Cream Shop | Disadvantages of Starting an Ice Cream Shop |
| --- | --- |
| A great way of building regular customers and a community | Lack of flexibility |
| Can be a great long-term asset | Expensive startup costs (often multiple six figures) |
| Can be a semi-passive investment in the long run | Staff cancellations can be hard to manage |
| Can resell ice cream (i.e. you don't have to make the ice cream) | The early months can be very hard work as the shop has to be open every day |
| Can also sell via online delivery platforms such as Ubereats and Doordash to bolster sales | Slow months can be hard to manage financially (rent still has to be paid regardless of sales) |
| High margins and upselling | Not the best route to market in a cold climate |
|   | If you pick a bad location, you are stuck with it. |
---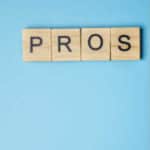 Pros of Opening An Ice Cream Shop
Building A Regular Customer Base
Opening an ice cream shop is a great way of building regular customers. Having a shop means you can fix yourself in a certain location open for a set number of hours per week. Having these two things help create certainty and reliability with customers who can then build visits to your ice cream shop into their weekly/daily routines. Thing is domething which is much harder to do for whole grocery pints or with an ice cream truck.
Organic Growth vs Market Growth
In the long run, if you build up enough goodwill and regular customers, an ice cream shop can become a great asset. Sales at our ice cream shop have gone up every single year since we opened six years ago.
Yes, the first couple of years were harder and slower than we anticipated but we stuck at it, reliably opening the doors 363 days a year, reliably serving quality ice cream and friendly service and the sales have followed. This was mostly because I wanted to focus on an organic word-of-mouth marketing system. Whilst it is slower than using other paid-for marketing techniques, I found it ensured constant and compounded growth as your reputation grows. My focus has been on the minimum necessary social media activity, but on a product and service that literally "WOWS". This will also lead to an ice cream store than becomes the heart of the community.
Long Term Asset
You have the potential with an ice cream shop of owning an asset that could be part of a local community for decades. I know of independent ice cream shops that have been part of the community for 30-40 years and provide the owners (and the owners' families) with a great quality of life. But you must be in it for the long run.
Passive Income Generation
Eventually (aka years later) once you have built up enough regular customers, know what you are doing, built up a great team, etc, an ice cream shop can begin to become a pseudo passive investment.
For example, nowadays, six years into my ice cream shop, I only check in at the shop and drop off ingredients on average three times a week. Personally, I find I have more time during the week to spend at home with my family.
In my experience, this pseudo passive nature can be harder to build with an ice cream truck – with a shop staff just need to open the door, set up, and start selling every day i.e. it is pretty much the same routine every day. However, with a truck, it is often traveling to new locations, or your staff member can't find a parking spot, or they need information on the event they are attending that day, or your truck needs checking or maintaining. Because of the 'non-routine' nature of trucks and carts, you as the owner will be more likely to receive phone calls and questions from team members daily (they are less passive).
Reselling Ice Cream
Some of the most successful ice cream shops are not always ones where the ice cream is made by you. You can resell ice cream in an ice cream shop. You don't have to be selling ice cream that you made yourself. You could just bulk buy ice cream from a wholesaler such as Restaurant Depot or from select suppliers.
This would obviously reduce your overheads as you would not have to take on the commercial kitchen overheads of making your own ice cream.
Does this model create a "unique ice shop"? No, but it can work particularly well in markets where people are looking for just simple ice cream options (i.e. there aren't many ice cream shops in that area or it is a traditionally popular ice cream shop area – think tourist locations, etc). There are also other ways you can distinguish yourself – by theme, service, etc.  
Overall, I highly recommend selling your own ice cream over selling another brand despite the increased overheads. It gives your ice cream shop its own USP and gives you the potential to really build your own ice cream brand outside of a lease. You also must bear in mind that you could be the first ice cream shop to open in an area reselling another brand of ice cream but all it takes is one competitor to open and it could seriously diminish the viability of your ice cream shop if you are simply selling generic ice cream.
Another form of this is franchising from a trending or popular ice cream shop brand – again not something I recommend as trends and popularity change. Much better to build your own unique USP ice cream shop.
Online Deliveries – UBEREATS
Online delivery platforms have completely changed the way any type of food business works. Not only can you sell direct to customers in your storefront – you can also sell your ice cream via online delivery platforms like Postmates, Doordash, and Ubereats.
I initially signed up for these services back in 2016/2017. Back then these platforms added a handful of extra sales most days (normally less than $100 total when we first signed up).
Today they make up anywhere between 20% to 30 % of our daily sales – bringing in four figures of extra income per week. During the pandemic, sales shot up online and have remained high ever since.
Yes, most of our sales usually come from in-store ice cream sales but there have been days where we have sold more via online platforms than in-store (particularly on colder rainy days when customers don't want to leave the house).
What about the commissions all the delivery platforms take? Yes, the delivery platforms take a commission. This ranges from services but I pay around 20%-30% depending on the platform. The commission does not bother me in the slightest. Even if we could generate the online or telephone orders ourself it would cost us more than 30% to have a dedicated delivery driver service.
Margins and Upselling
When it comes to margins, owning an ice cream shop is one of the best options. A scoop of ice cream can cost anywhere between $1 to $1.50 – that scoop can then be sold for as much as $6. Depending on the type of ice cream you make this cost could be even less.
You see the real magic about ice cream making is "overrun" – that is how much air is whipped into ice cream when it is frozen. The more air, the bigger the final frozen volume of the ice cream. That was more ice cream than liquid than when you started.
Of course, overrun can change quality etc, but all ice cream will have some overrun.
It doesn't stop there. One of the most successful things I ever did at my ice cream shops was introducing dedicated pint freezers. These are freezers with pre-made and frozen pints for people to purchase for home. Not only is this a great way to use up any extra ice cream, but they also are a great way of increasing your average sale price. Customers will often buy a scoop of ice cream and a pint to take home. These two items can mean a single sale of $20 instead of $5.95 for a single scoop.
Cons Of Opening An Ice Cream Shop
Cost
Opening An ice cream shop (in main metropolitan areas like Los Angeles) is expensive. Expect multiple six figures to open. Yes, it can be done for closer to $100k, but honestly, it is more likely to be multiple six figures.
It took around $180k for us to open a tiny ice cream shop (455 sq ft) with a commercial kitchen in a premium LA location.
Lack of Flexibility
Unfortunately, if the location doesn't prove to be as hot as you hoped you can't just drive off and try a new location like you can with a truck. You have leases, landlords, bank loans, etc…
Staffing
One of the great perks of an ice cream shop is that you don't need that many people to run it. A small ice cream shop can operate with one person at a time. The flip side is that last-minute staff cancellations are the worst and trust me they do and will happen.
Building up that reliability that you will be open every day is essential to your ice cream shop's success. So, when you receive a last-minute phone call that your team member who was going to carry out today's shift has suddenly come down ill/crashed their car/something comes up for them and nobody else can cover, you can bet who is going to have to drop everything to cover. YOU.
Staff cancellations are not such an issue with a truck or cart (unless you have a pre-booked event) as customers don't tend to expect a truck or cart to reliably be open as they do an ice cream shop.
The early months/ years can be relentless as customers expect shops to be open every day. So particularly in the early months when you are still building up your team and getting used to operations you will probably have to work long days and hours in the shop.
Cold Weather
Opening an ice cream shop is not the best option if you live in a cold area. This is especially the case if the rental rates are high where you live.
At least with trucks/carts/selling ice cream online you can just operate the business during the summer warm months. I know technically you can close an ice cream shop in the winter months but if you still must pay high rent during those months this won't be a feasible option for most.
I emigrated from the UK to sunny Los Angeles to open our ice cream shop because I knew it had a better chance of succeeding in a warm sunny climate. I wasn't wrong.
Seasonality
There is an element of seasonality to any business. However, when it comes to ice cream you can be sure that your sales will go down in the winter and up in the summer. This means you have to get particularly good at understanding how to allocate and save those summer funds to help you get through those slower winter months.
To put it into context I find in Los Angeles the slow months hit us from November to February. We see as much as a 50% drop in sales during these months.
Conclusion – Should I Open an Ice Cream Shop
Personally, I don't think a shop is the best way to start an ice cream business. I would try and get proof of concept with your ice cream product before you open a shop.
I had one and a half years of selling my ice cream pints to small chains and delis and 18 months of feedback before I had the confidence to pour my life savings (I was only in my twenties at the time so to open an ice cream shop in an expensive city basically required my life savings at that time) into opening a shop.
If you want to open a physical ice cream shop, you really do have to be in it for the long run. I would particularly think twice about opening an ice cream shop if you live in a cold area.
---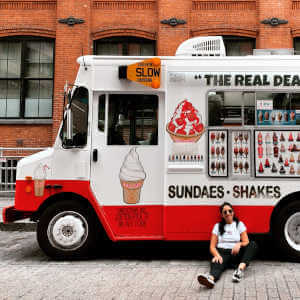 How to Start An Ice Cream Truck
---
| Advantages of Starting An Ice Cream Truck | Disadvantages of Starting An Ice Cream Truck |
| --- | --- |
| Lower startup costs than a shop (think five figures rather than six) | Hard to build up a regular customer base |
| Flexible | Unreliability/truck repairs |
| Slow winter months are easier to manage due to lower monthly overheads | Over-reliance on events for profitability |
| Events (corporate, birthday parties, and public events) can be very lucrative and profitable | Must still find a way to make your ice cream if you are not just reselling another brand of ice cream |
| Can resell another brand of ice cream | Fighting for good spots |
---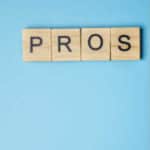 Pros Of Opening Ice Cream Truck
Lower Startup Cost
An ice cream truck requires lower startup costs than a shop (i.e. not six figures like a shop). This is especially true for ice cream trucks which don't require a full kitchen.
However, it will still cost you most likely a decent five-figure chunk of change to do. My ice cream truck took around $41k in Los Angeles (which is more expensive) to bring to market.
Flexibility
There is more flexibility with an ice cream truck than with a shop. If for whatever reason you decide the ice cream business isn't for you, you are not tied into a lease and so can simply sell the truck (a lot of ice cream trucks are sold via Craigslist, offer up, eBay, etc).
For example, during the COVID lockdowns, events dried up for my ice cream truck. At the same time sales at my ice cream shop sales went up. Since the shop made the ice cream for the truck and with the store and production for ice cream increasing in demand, I decided to sell the truck.
I sold it in a couple of months. This removed all the costs involved from not having it operating (and by the way no you can not just have your truck sitting on your drive when it is not operating in Los Angeles – you must pay for dedicated commissary parking at $1k + per month).
Ok, we didn't sell it for what we put into it, but we still recouped a decent enough chunk of the costs and freed up our production kitchen to focus on increased sales from the ice cream shop.
Less Impact of Seasonality
You can limit the impact of seasonality with an ice cream truck. This is because during the colder periods you just don't take the truck out or you go out less.
Bear in mind, depending on where you launch an ice cream truck, you may have to have your truck parked in a truck commissary overnight. Our truck commissary cost $1,000 per month. But this is obviously a lot cheaper than a commercial shop lease (in comparison our ice cream shop rent is currently $4.2k). Also, most truck commissary leases are on a rolling monthly basis (most commercial retail leases tie tenants in for years in comparison).
Profitable Events
The biggest advantage of a truck is the ability to sell at private or public events. Both of which are usually incredibly profitable.
Often, we would be asked to do private events, parties, corporate events, and even visit movie studios and sets. Organizers would pay in advance for a set number of servings where often you would end up serving less than specified. Making these types of events super profitable.
I would rarely take on any events for less than $500 and I even won events that paid us as much as $3,000 for just a few hours of serving. The corporate events worked out the best – birthday parties tended to be lower ticker events.
These events worked out so profitable as they only took a few hours of staff time, and we were guaranteed payment. My staff loved these events too as they were often tipped generously for them.
We also often did public events. These could be very profitable depending on the turnout. For these public events we usually had to pay a set fee to attend – if the turnout was good then they could be very profitable (but if the turnout was poor, they could also be loss-makers). When doing public events if you are unsure of the attendance you want to make sure there is a minimum you can set with the organizer and be sure to keep any fees for attending to a minimum.
Cons of Opening Ice Cream Truck
Getting Regular Customers
It can be hard to build up a regular customer base with an ice cream truck in the same way you can with an ice cream store.
You can build up regular street spots but it's not the same as having an ice cream shop. Customers won't just leave their house and wander over to a spot they have seen an ice cream truck in the past. This is because they can never be sure if you are going to be there or not. Although having a strict schedule can help with this.
You can try to build up regular street spots, but you won't always be able to get these spots. Most of the popular spots will be competitive with other trucks or require a fee.
With my ice cream truck, we decided to build a dedicated street vending spot. It worked, but soon other food trucks saw us there regularly and started to take the spot as well. We would turn up and our space would be taken with nowhere else to park. The result was having to leave super early to make sure we got a spot for the day. Plus if you get your parking wrong – you will get a ticket.
Unreliability
Probably the absolute worst thing about an ice cream truck is unreliability and repair costs. I have been called at 10 pm on a Saturday night by a team member letting me know our truck has literally just stopped in the middle of a street. I have had to pay $1000 for a huge tow truck – twice. I have had an engine that literally tore itself in half and then had to be replaced (that one cost $7,000). I have had to get a group of people to help me push it back into the commissary when the petrol pump failed.
If you want to learn about car engines, then owning a truck will make you an expert. Don't even get me started on generators and all the issues which come with those things.
Whilst we never got into any crashes or accidents, these both remain the biggest risk of running your truck daily. Yes, your insurance would cover most of the repair costs (get fully comped), but your truck would still be out of action for a while whilst the repairs take place. Also for non crash related repairs (like when our engine broke) insurance won't normally cover these repairs. We ended up having to cover every repair
Whenever my truck had any event, I always nervously had my phone close by hoping I wouldn't suddenly receive a phone call from my truck driver letting me know that something had happened to the truck on the way to the event. We never had to let a client down last minute but unfortunately, it is always a possibility with a truck and so something to bear in mind.
Over-Reliance On Events
The economics of running a truck means you really need to rely on events to make a decent amount of profit. Why? Well, compared to other food trucks your average sale will just be a lot lower on an ice cream truck. A single scoop and a topping will be anywhere around $4 to $7. Compare this to a burger truck which can easily charge $20 for a burger and fries and then extra for a drink, etc.
That means if you normally vending you would have to be out for a whole 6 to 8 hours to do the same that a dinner truck could make in a couple of hours of service.
COVID was something that really made me realize this. Once COVID hit and events stopped happening I had to rely on street vending spots which were just not strong enough to support the truck.
---
How To Sell Ice Cream Pints in Grocery Stores
---
| Pros of Selling Ice Cream Pints into Grocery Stores | Cons of Selling Ice Cream Pints Into Grocery Stores |
| --- | --- |
| Potential to sell your ice cream nationally or even globally | Tiny margins |
| Can be a great way of selling to warmer locations | Requires a lot of capital |
| A model you can really scale | Long time frames |
| Has the potential to be a multi-million-dollar brand if done right | Buyers are hard to get hold of and get samples to |
|   | Can be hard to find the right co-packer |
|   | Expensive listing fees to get into large grocery chains |
|   | Must have very unique ice cream to stand out to ice cream buyers and to consumers in the freezer aisle |
|   | Grocery stores, distributors, and investors can feel like "bosses" |
|   | Payment Terms |
---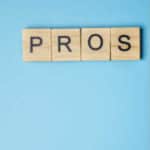 Pros of Selling Ice Cream Pints into Grocery Stores
Diversification
By selling pints into grocery stores and supermarkets you really are diversifying your ice cream operations. Having lots of different avenues and outlets lets you work out what is the best market and locations for your ice cream. You are also not reliant on one fixed location. Also, if you live in a colder state in the US and do not want to relocate somewhere warmer then grocery pint distribution could be a great way of selling to warmer locations.
Biggest Potential to Make Millions
If you really want to make millions then selling wholesale is probably your best way of getting there. This is because of the sheer size of the market you could be servicing. Get this model right and you could be selling your ice cream across the USA or even globally.
Creating a Valuable Brand
This method also gives you the potential to create a brand that other corporates may eventually want to buy. You see despite the low margins, long time frames, and huge capital requirements, if (and it's a big if) you can make it work you could have a very successful nationwide brand on your hands. A brand that could eventually be worth a lot of money. There are lots of "ifs" and barriers to this route, but it could be hugely lucrative if done properly.
Cons of Selling Ice Cream into Grocery Stores
Finding a Co-Packer
If you want to sell your ice cream pints nationwide you will have to get a co-packer to make your ice cream for you. A co-packer is basically a factory that can make your ice cream in massive amounts. This is much more complicated and expensive than it sounds.
I used to think it was as simple as approaching a factory to make your ice cream for you – it is so much more complicated, expensive, and time-consuming than this. You need to find a co-packer willing to work for you, agree on the pricing and cost for using the co-packer, work out how you are going to store the ice cream once it is made (not all co-packers will store it), and even work out how to make your ice cream in such huge volumes.
The alternative is that you could make your own production factory, but again this is a huge cost and time-intensive undertaking. A risk I don't think is worth taking until at least you know your ice cream pints are a much bigger success.
Tiny Tiny Tiny Margins
You know how you make a lot of money selling pints wholesale – you sell hundreds of thousands of pints, even millions of pints of ice cream. You will need to because your margins are going to be tiny. Above I said that running an ice cream shop your gross profit margin can be $4 on a single scoop of ice cream. Well, for a wholesale pint – it will be pennies.
There are so many layers to the wholesale – co-packer costs, frozen storage costs, distributors' costs, and grocery store margins. These all make it extremely hard to make a decent profit particularly if you use quality ingredients.
I always chose to make my ice creams from high-quality simple ingredients – no water, no sugar, no preservatives, organic (where possible), etc. However, doing this makes it particularly challenging to make the margins work – especially when you factor in the fact there is a cap on how much the end consumer is willing to spend on a pint of ice cream in a grocery chain.
Don't believe me? Then just go to your local supermarket and look at the back label of some of the ice creams on offer. You will see "Water" as one of the main ingredients – why because it is super cheap to use.
Distribution is Hard
Ice cream is frozen. Frozen things are one of the hardest and most expensive things to get from point A to point B.
It is expensive to get ice cream from you to a distributor to a grocery store and all of them must be completely temperature controlled. Distributors don't normally like to take on huge amounts of frozen because of this. The same is true for grocery stores.
Grocery Store Ice Cream Reviews
Getting your ice cream pints into large grocery stores is very hard, very expensive, and involves very, very, very long timelines. This is especially the case for frozen products like ice cream – a lot of the large chains only carry out an ice cream review once or twice a year.
There are also listing fees to get your ice cream just in the stores (normally the fee is multiplied by the number of locations it is launched into as well as the number of flavors). That is right the grocery store charges you for placing products with them.
These listing fees can end up being huge sums of money.
Grocery buyers are also some of the most in-demand people out there. Just getting a meeting to pitch your ice cream can be painfully difficult. Let alone get them frozen samples. I have sent frozen samples to buyers who have asked for them that were left out and then melted or eaten by someone else. You name it. It has happened.
Getting Paid – Payment Terms
You just got a big order from a grocery store. Woo hoo. Congrats. Wait, what was that? They are not going to pay you for 6 months. Oh, and in the interim, they want the ice cream delivered by next week.
Welcome to the world of wholesale purchases and net payment terms.
In most instances you are going to be faced with having to accept NET30 payment terms – that is you will be paid 30 days after the invoice has been processed by the buyer. But, some of the bigger players can operate on NET60, or even longer. That's right. You may not be paid for months while still having to fulfill orders, pay for your operations and pay your co-packer to make the ice cream.
Now, these terms are optional, but if you want the order you are going to have to accept them.
Having A Boss Again
If you wanted to start an ice cream business because you wanted to be your own boss, again then selling whole may not be the best option for you. This is because selling to large grocery stores and distributors can be a bit like having "bosses".
The moment your ice cream pints are in grocery store chains and listed with distributors, if they ask you to jump – your answer will have to be "how high".
Yes, there have been many times our distributor wanted to restock super quickly, and we would have to drop everything to get the orders made and delivered. Same with the grocery store chains too. If you promise a large grocery chain you will deliver by this date then you had better believe you have to deliver by then.
Also, if you truly want to make it big via selling pints into grocery stores, then you will almost certainly have to take on investors at some point. If you have an investor, you essentially have a boss.
Unique Ice Cream Product & Marketing Spend
To stand out in the ice cream aisle you need to have a special ice cream product that stands out. Unlike other locations not only are you dealing with the Ben & Jerry's and Haagen-Dazs, but you are competing with the freezer door. Yes, the freezer door physically blocks people from your product.
For someone to buy your new ice cream product someone has: (1) walk down the freezer aisle; (2) see your ice cream (behind the freezer door); (3) decide to open the door; and (4) reach out and grab your ice cream. That's why when it comes to grocery pints marketing you need to have a pretty good marketing strategy. Otherwise, no one will even pick you up off the shelf.
---
How To Sell Ice Cream Via An Ice Cream Cart
On several occasions, I have looked into adding an ice cream cart to my ice cream business. However, our ice cream business is based in Los Angeles and the Los Angeles health department is one of the strictest in the World. The only way we would have been able to get an ice cream cart permitted and sell to the public would have been if we sold "pre-packaged" for example pre-packaged ice cream sandwiches or scoops of ice cream in cups with sealed lids or pre-packaged popsicles.
However, scooping ice cream from an ice cream cart and selling it to the public on the street wouldn't have been approved by our health department as this isn't deemed pre-packaged. For this (rather crucial!) reason I have never added an ice cream cart to our business. 
An ice cream cart may be an option for you depending on where you live and what the local health department requirements are. That said having spent so much time researching the topic here are my pros and cons for running an ice cream cart business.
---
| Advantages of Ice Cream Cart | Disadvantages of Ice Cream Cart |
| --- | --- |
| Very low startup costs (think 4 figures) | Some health departments won't allow scooping from an ice cream cart (i.e. pre-packaged ice cream only) |
| Low storage costs | Still have to find a way of storing ice cream when the cart is not in use |
| Good for indoor events | Still have to find a way to make ice cream if not reselling ice cream |
| Good for events with difficult access/limited space | A limited number of customers can be served from a cart |
| Good for small events | Cannot service big events |
| Can re-sell ice cream | Have a find a way of transporting the cart |
|   | Zoning rules may prevent where ice cream can be sold |
|   | Customers expect to pay less for a cart at an event than for a truck |
|   | Can only store limited ice cream flavors/varieties |
---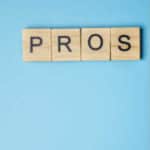 Pros of Starting An Ice Cream Cart
Very Low Startup Cost
Ice cream carts have the lowest startup costs. Think around $5,000 or potentially even less. This is compared to up to $100,000 for an ice cream truck and $100,000 + for an ice cream store.
Low Storage Costs
Given their size carts can be stored in easier locations and for less. Depending on your health department as well carts may or may not have to be stored at a mobile food commissary.
Events
I have been asked a lot about whether we have an ice cream cart over the years for events. This is because ice cream trucks often do not work for the following types of events:
events with small access/difficult to access entries which are difficult for trucks to access.
small parties e.g. birthday parties for 30 children. For these kinds of parties, a full-sized ice cream truck is often too expensive for a small gathering or party and/or isn't profitable enough to justify the cost of a truck.
it is not a huge surprise that most event requests we received when we had our truck was for the weekends. This meant that often we would accept an event request and then we would end up receiving another event request for the same day (sometimes a higher ticket one). Adding a cart to an ice cream business that already has a truck is an economical way of doing several events on summer weekends (so long as you have the staff to do them).
Cons of Starting An Ice Cream Cart
Pre-packaged only
Some health departments will only allow pre-packaged ice cream from carts (i.e. no scooping).
Need a Production Kitchen
You will still have to find a way of making ice cream or storing ice cream when the cart is not in use. This means a shared commercial kitchen or private commercial kitchen space.
Smaller Capacity
Carts do not have the capacity to be able to service large events.
Unable to Charge Higher Prices
Clients expect to spend less on a cart than a truck even if the number of servings is the same (a truck is more impressive at an event than a smaller cart).
Transporting The Cart
You still must find a way of transporting the cart. This will usually mean having to get a trailer or truck to transport it. Even if you found a bike cart (which I am particularly fond of) you will be limited to a certain radius.
Zoning Rules
Depending on where you live there may be zoning rules for where you can and can't sell from a cart i.e. you can't just rock up anywhere with your cart and sell. The most popular locations in an area will require a local permit to sell there.
Limited Storage Capacity
Due to limited storage capacity, there is a cap on how much ice cream you can sell from a cart until you run out. You will also be limited by how long you can keep the ice cream cold in the cart.
Limits on Flavors and Varieties 
Limited as to how many flavors/varieties you can sell.
Is An Ice Cream Cart a Good Way to Start an Ice Cream Business?
Absolutely…if you: (1) live somewhere that is cart friendly from both a health department point of view and in terms of being able to sell in the areas you want to; and (2) you can make and store (i.e. have easy and cheap access to a commercial production kitchen) or buy (if you are reselling) the ice cream you want to sell.
The main advantages of starting with an ice cream cart are the low expenses.  You also have the advantage of being able to charge decent three-figure sums for your cart to serve at events.
The cons are that although an ice cream cart is a great way to start an ice cream business there is a limit as to how far you can get with it. For example, I think it would be very challenging to have four-figure sales days with a cart.
If you are looking for a cart, do it as a way of testing out an ice cream concept or testing out a location. Or use the cart as an addition to an existing ice cream business, particularly one that wants to expand its event offerings.
---
How To Sell Ice Cream Pints Online
The last way of selling ice cream is to set up your own online shop via Shopify for example. Under this method, customers can place orders for pints online. Orders are then delivered directly to their house utilizing dry ice (or another method of frozen shipping).
I have gone back to online sales many times during our business (particularly during the COVID lockdowns). The main reason we have never pursued it is that I believe the cons really do outweigh the pros.
---
| Advantages of Selling Ice Cream Pints Online | Disadvantages of Selling Ice Cream Pints Online |
| --- | --- |
| Good way of selling ice cream to warmer areas | Frozen shipping is very expensive |
| A great way of selling nationwide without opening locations nationwide | Dry ice is dangerous if not handled correctly |
| If you already have a way of making and storing your ice cream it is a good way of building a following | Challenging logistics |
|   | No guarantee ice cream will still be frozen by the time box is opened |
|   | Potentially large freezer space is required |
---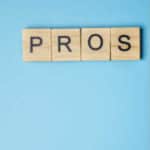 Pros of Selling Ice Cream Pints Online
Access to a Wider Market
Selling ice cream online is a great way of selling beyond your state/county/city. My ice cream shop constantly receives emails asking if our ice cream can be bought in various states across America. It is a great low startup cost way of selling across the US (well lower startup costs than opening storefronts across the US anyway).
Building A Following
If you already have a way of producing and storing pints of the ice cream, this could be a good way of starting to build a following. Particularly if you are willing to send out the initial orders yourself (for example if you can go buy the dry ice/take the order to USPS yourself – you may not have the orders to justify hiring a staff member to do it for you).
Dealing with Seasonality
If you live in a colder state in the US with brutal winters, it could be a good way of selling your ice cream to warmer states without physically going there. This could help combat any seasonality issues.
Cons of Selling Ice Cream Pints Online
Expensive
Shipping pints by dry ice is expensive. You need to pay for dry ice, get special insulated boxes, get the proper tape, and get all the special markings for dry ice shipping. Unlike other items, there are strict rules for dry ice shipping. On top of all of this, you still have to pay for the dry ice shipping.
Once this is all is added up, there isn't a huge amount of profit.
Dry Ice Can Be Dangerous
Dry ice can be dangerous if not handled correctly. I have concerns about staff and customers handling dry ice. If the proper protective gear is not used it can cause burns. This is especially the case if it hasn't properly evaporated upon delivery.
Logistics Are A Nightmare
The logistics of selling pints online can be challenging.
Say an online order is placed. If we don't currently have those flavors in stock in our kitchen they would have to be made and then left in the freezer overnight to harden. A team member would then have to head to a dry ice supplier (dry ice must be purchased just before it is mailed out). They would then have to package the order, drive to USPS or mailing service and get it shipped.
We often operate with just one team member at a time in our ice cream shop. This means a lot of the time this wouldn't be possible for us to do.
Obviously, one solution would be to have online orders just shipped out once a week. That makes more sense from a logistics point of view. The downside is that customers could end up waiting a long time for their delivery. If all orders placed Monday to Sunday are shipped the following Monday it means someone who orders on a Tuesday will be waiting over a week for their delivery. In this current Amazon Prime "on-demand" world we live in I worry customers would not be happy with that.
Will It Even Arrive Frozen?
There is no guarantee the pints will arrive frozen. That is even if you get the right amount of dry ice to keep it all frozen. Also, if customers do not realize the delivery is outside their house/in a mailbox etc everything could be melted by the time they open the box.
Higher Cost For Customers
With all the extra costs involved in frozen shipping the only way to make this model work is to pass the shipping cost onto the customer. This can make it pricey for customers to order (think $70+) and for something that may not arrive frozen.
Freezer Space
You need to have the freezer space to store enough ice cream to service orders from across the US.
---
Other Ways To Start an Ice Cream Business
There are a few other routes to market for ice cream. These are:
selling Napoli tins of ice cream to restaurants; and/or
and also making white-label ice cream (i.e. making ice cream for another brand to put their label and branding on).
These routes to market aren't the most suitable for someone starting out in the ice cream business.
White label production really is for established factories. Established factories with an excess capacity, economies of scale, and experience in making ice cream in large volumes. I also personally would not recommend selling ice cream to restaurants. It is very unlikely you will gain any brand awareness (i.e. your brand will not be on the menu) and you will be operating off such small margins. For such little brand exposure, I don't think it is worth it.
My ice cream shops have been approached by several restaurants (high-end ones) over the years. However every time we sit down and crunch the numbers it never financially works.
---
The Final Lick – How Do I Start My Own Ice Cream Business?
How do I start my own ice cream business? Well, there are a few ways you can do it. If you have read the above and still don't know what to do then start by asking yourself some of the following questions: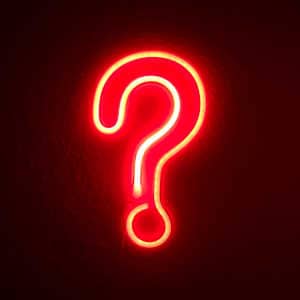 3 Questions You Need To Ask Yourself
What route to market do you want to take (ice cream shop, ice cream truck, ice cream cart, selling pints to grocery stores, or selling ice cream online)?
Are you going to be selling your own ice cream or re-selling ice cream? If making it yourself, how are you going to make it (standalone commercial kitchen, commercial kitchen at the back of your ice cream shop, rented commercial kitchen space, co-packer, or even make it from a home kitchen if local permitting will allow)?
If you decide on a store, truck, or cart option which location do you want to start in?
When I started in the ice cream business, I had no ice cream experience. What was important for me was making sure I understood how to make ice cream on a commercial scale. After that, it was making sure people liked and wanted what I made. For these reasons, I always suggest starting small and growing from there.
Set a time to test out recipes and your flavors. Then work out the best way to reach your target market. Start selling direct to consumers (because the margins are the best) and then work from there.
Unless you have a big financial backing then this is the best way to start and naturally grow your ice cream business. The most important thing is to just start because most things you need to learn can only be learnt by doing.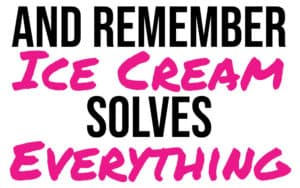 ---
Time To Learn Some More
Want to learn more on your path to ice cream entrepreneur success. Then check out some of my other articles.
What Are the Challenges In An Ice Cream Business
Ice Cream Shop Profits – How To Run A Profitable Ice Cream Shop
How Much Does It Cost To Start An Ice Cream Truck
How Much Does It Cost To Start An Ice Cream Shop
Ice Cream Shop Accounting – Everything You Need To Know
Can I Make Ice Cream At Home And Sell It
What Are the Different Types of Frozen Desserts?
Is Vegan Ice Cream Profitable
What Equipment Do I Need For My Ice Cream Truck
How To Pick A Generator For Your Ice Cream Truck
How Profitable Is An Ice Cream Truck?
Everything You Need To Know About Working In An Ice Cream Shop
Everything You Need to Know About Writing an Ice Cream Business Plan
Everything You Need To Know About Rolled Ice Cream
Everything You Need To Know About Soft Serve Ice Cream
Vegan "Ice Cream"
Everything You Need To Know About Batch Freezers
What Equipment Do You Need For An Ice Cream Shop
What Supplies Do You Need For An Ice Cream Shop
What Is The Best Location For An Ice Cream Shop
How To Open An Ice Cream Shop
How To Start An Ice Cream Truck
Do Ice Cream Shops Make Money in the Winter
How To Make An Ice Cream Shop Stand Out
How Do You Become An Ice Cream Distributor
Everything You Need To Know About Ice Cream Delivery Apps
Everything You Need To Know About Gluten-Free Ice Cream and Toppings
What is the Mark-Up on Ice Cream?
What Scoopers Do Ice Cream Shops Use?
What Are the Best Toppings and Sauces for Ice Cream?